Corey Brooks has finally put his America's Care Package to use in an overnight meeting that should lock up this week's eviction and secure confidence in the new leading alliance for Big Brother 18.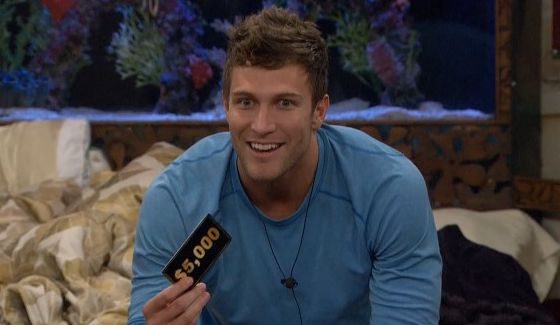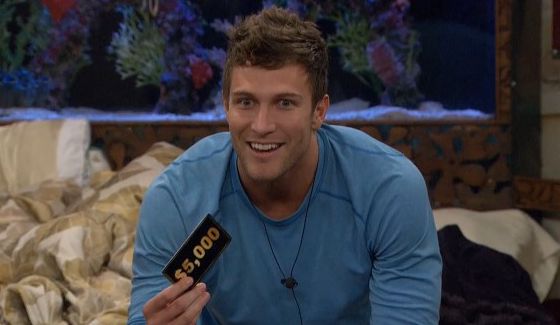 Having received the BB Bribe last Friday Corey was facing a quickly approaching deadline for the power that would otherwise expire tonight at the end of the upcoming HoH competition. Read on to find out where the BB Bribe has gone and what it means for the game.
Corey and Nicole had wavered for days over whether or not to transfer the $5K of Big Brother 18 gold over to Nicole for a simple request, offering it to Victor to guarantee something he was already going to do, or try to sway James to bail on the HoH competition this week. The decision was revealed last night to make Victor $5,000 richer.
Corey told Nicole the Diary Room was pressuring him to make a decision which isn't a surprise since you know they want to see it used rather than having to toss it away. The pair are discussing those few ideas at 7:22 PM BBT 8/31 but it wasn't until 8:57 PM BBT last night that they revealed the decision.
Victor and Paul are in the room along with Nicole and Corey when the talk begins. Corey tells the guys that while their F4 alliance may be new both he and Nicole want them to know how serious they are about it. So instead of offering the $5K to Nicole they want Victor to have it in exchange for voting out Michelle. Corey goes on to say they won't put them up and he hopes the guys won't do that either which is a bit of an extension of the Bribe's power but seems a reasonable expectation if it's to show they're committed to working together.
Victor is extremely grateful, excited, and happy for the offer. He immediately accepts and the group of four hug. Paul is thrilled as well because this practically guarantees his safety with both guys voting to keep him and Nicole on board to break the tie in Paul's favor.
Hugs all around as Victor is overwhelmed, Paul is relieved, and Corey seems really pleased to be able to help Victor out with this prize. Nicole cuts the mood by saying she hopes Victor and Paul won't use this Bribe against them in the coming weeks. That had been a concern of Nicole's that they might reveal to James and Natalie or try to bring it back against them somehow.
Now Victor's Big Brother eviction vote is effectively locked in against Michelle. Corey will do the same and then Nicole will vote out Michelle in a tie-breaker. Only way Nicole won't do that is if she doesn't have to should they tell James and Natalie in advance and they change their own votes. As of now there still have been no conversations between Michelle or James and Nicorey. It's really been a rollover and evict kind of week for Michelle and that's a shame.
As for Corey's decision this is not a bad choice. If he gave it to Nicole then it could be used against her later as many prizes often are, plus there's nothing for Corey to gain from Nicole as they already have each other's support. Then if he approached James about throwing the HoH comp it'd tip his hand of their hardened alliance against James and Natalie later when they saw what was going on with the vote. Now with James free to play and possibly win HoH that lets Nicole and Corey go back to their middle ground as they hope to not end up a target for Natalie and James.
By giving the $5K Big Brother Bribe to Victor he's now shored up confidence and trust in Victor and Paul both at the same time. Should either of these guys win HoH you know they won't be coming after Corey or Nicole and neither should be nominated unless they're forced in a renom situation. Yes, Victor was already going to vote this way so this move simply earns goodwill and trust from the Sitting Ducks duo. It's a good move when compared to the other options.
What do you think of Corey's decision? How would you have spent the $5K Bribe since Corey couldn't keep it for himself and had to use it or lose it by tonight. Share your thoughts below.