If you've watched the Big Brother Feeds or followed along with online recaps then you've fully come to expect the CBS TV version of Big Brother to vary wildly with incomplete scenes, out of context comments, and often completely slanted representations often at odds with the reality of the game. Now we're even getting that on our Live Feeds thanks to Nicole Franzel.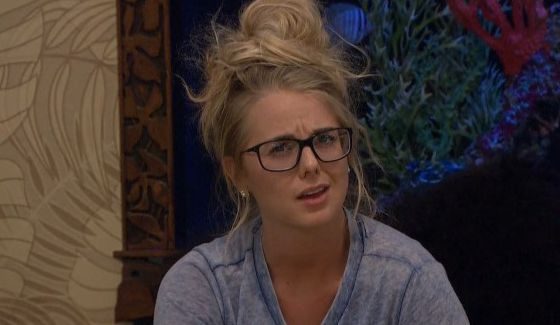 This isn't an isolated incident in the season and with it coming from one of the returning Houseguests it's possible we've got another negative side effect of bringing back people who are already intimately familiar with the way not only production operates but how the audience receives them. When the HGs are more concerned about "packages" for the next episode than playing the game, then we've got a problem.
Last night Nicole began challenging Corey on his plans for the week ahead. After several looping conversations Corey was puzzled and asked why she wasn't seeing what needed to be done. Oh, she did, Nicole explained, but she was just faking the talk so production had the content to use, you know, for the lies and deception to viewers for creating false tension and drama.
Flashback to 1:15 AM BBT 9/9 Cams 1/2 on your Live Feeds (get the Free Trial now).
Nicole is sitting in bed with Corey as they continue to debate who should go up on the Block. They had already agreed on the plan hours earlier but now Nicole seems unsure. She's questioning Corey's plan to put Victor and Paul up on the Block together and he's getting agitated about it.
"We can beat James in any comp in the world we want, so why would we want him out of the house? It'd be like someone wanting you out of the house," says Corey to Nicole. Heh. He wants to know why she's struggling to understand this basic concept.
"You're arguing putting up James. What's going through your head?" asks Corey. "I'm just giving them footage," Nicole quickly explains. Yep. Blink and you'll miss Nicole admit she's lying to viewers for the sake of production.
Nicole is either obliging production with a request or doing so of her own volition to create false segments intended to deceive viewers on TV and on the Feeds. That's some sketchy stuff right there. It's not the first time she's done it either.
Back during Week 10 after she won the Power of Veto Nicole had a talk with Corey debating whether or not they should flip on their F4 alliance that week. Flashback to 4:46 PM BBT 8/27.
Nicole is sitting with Corey in the HoH room and has just proposed that they could flip and take out either Victor or Paul before saying she doesn't want to do that. She details why they can't keep Michelle in the house. Corey agrees and they continue to discuss when Nicole makes her admission.
"I'm just giving them some footage right now. Just act like I'm contemplating on what I'm doing," says Nicole as she explains this latest back and forth over what to do about with their power this week.
When this scene played out on TV Nicole's admission of deceit obviously wasn't in there. But even worse, production edited out the middle of their conversation when Nicole said "but that's not what I want to do" when it came to possibly flipping on Victor and Paul, thus changing the context of the conversation.
So not only are TV viewers battling deceptive tactics from Big Brother production but now we've got at least one Houseguest, Nicole, actively lying to Feedsters for the sake of "giving them footage." As Nicole likes to say, "that's frickin' bullcrap."