Natalie Negrotti made it to the Final Six of Big Brother 18 despite a rough start as part of the Revolution alliance. By the end of the season she had successfully aligned closely with James but that same partnership lead to her eviction when the HGs moved to split up the couple. Now on her way to join the BB18 Jury we had the chance to ask Natalie a few questions about the game.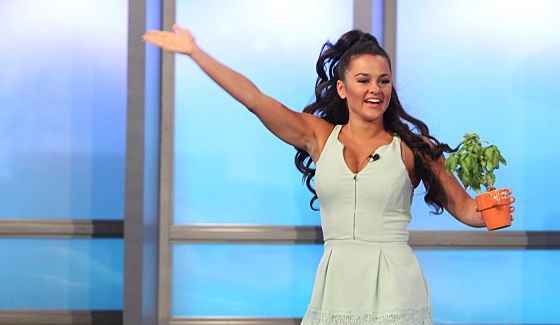 Daring to make big moves ultimately came back to bite Natalie in the game but the non-game drama of her relationship with James overtook the focus of her final week in the house. With the opportunity to ask her about her game we wanted to know more about how things shaped her season, who she thinks will is playing the best game, and more.
Big Brother Network (BBN): You mentioned to James this week that he guided you down the wrong path with Nicole & Corey. Why did you ultimately decide to flip on Victor & Paul to work with Nicole & Corey instead?
Natalie Negrotti: Well, James really trusted Corey and Nicole. I trusted James wholeheartedly. My thing with flipping on Victor and Paul was that I thought I had a final four with Nicole and Corey. At the same time I thought that Paul was coming after James. I knew at the end of the day Corey and Nicole were not coming for James so I thought I was making a smart game. Paul and Victor are the best competitors in the house.
BBN: If James does decide to try and go to the F2 with Nicole will you be surprised and will you stick to the threat of not talking with him again if he did that?
Natalie: I never meant what I said to him. That was a heat of the moment thing because I felt very betrayed by Nicole and Corey. I respect his decision one hundred percent if he takes Nicole to the final two. James will always be part of my life and nothing will ever change that. I would actually respect him if he took Nicole to the final two.
BBN: How do you think your relationship with James ultimately affected your game and is there a future for you two after Big Brother?
Natalie: I definitely let the relationship we had in the house take over me for a while. I care about him so much. I put him in front of me in the game and I tried to protect him just like he tried to protect me. Being on the block together gave us a lot of tension. At the end of the day, now that I am evicted, it made our relationship stronger. Knowing that I am happy that he is still in the game and I am happy I got evicted over him, it really just shows my true feelings for him.
BBN: Who is playing the best game right now to get to the Final Two?
Natalie: Right now I think Nicole is playing the best game.
BBN: Thank you Natalie.
After playing a quiet start to the season Natalie's game ramped up in the second half as she dared to make big moves by going after major threats in the game, but when the Jury Battle Back hit her worst nightmare came true. Victor returned and exacted his revenge.
Natalie's role isn't over yet for the season though and she'll be back in a few weeks to help pick the winner of Big Brother 18. I laughed when Nicole speculated Natalie would vote for her over James in F2, but you never know.