It was a quiet Tuesday in the Big Brother 18 house as everyone is chilling on the game talk as they're all pretty set in their ways for this week, and as of now, the rest of the season. Paul even said today now it's all about winning. But don't worry, it's Big Brother, so surely there will be more than just competitions going down for us to watch the rest of the season.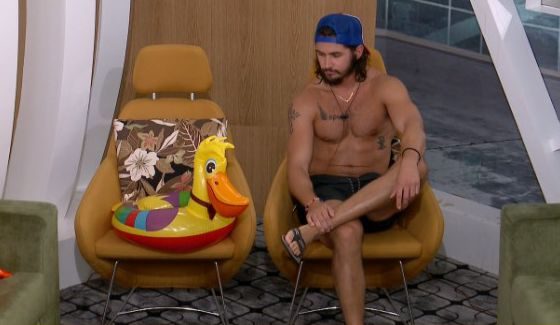 If you've got the Live Feeds (Free Trial) then you can watch all of these moments with the Flashback feature to go back and watch those important conversations or funny scenes you may have missed.
Big Brother 18 Live Feed Highlights – Tuesday, August 16, 2016:
10:00 AM BBT – James and Natalie are awake and chatting. Michelle is out back getting some sun.

10:45 AM BBT – Michelle camtalks her game plans. She thinks she's in a good spot right now and will work with the majority to get out Paulie, then Corey and Nicole. She's hoping to annoy others just enough to be seen as unlikable and then taken on to the end. She'd be okay with helping Victor and Paulie get out James.

11:25 AM BBT – Victor is back from writing his HoH blog. A little later he jokes with Michelle about needing to correct his blog last week about Paulie being his ride or die. He and Michelle hope they can get the Care Package this week.

11:45 AM BBT – Victor has the HoH camera but no one is around. He takes a lot of selfie pics with props from around the house.

12:45 PM BBT – Natalie really doesn't feel well. James is talking with her. She's cramping and her neck was pulled last night leaving her in a lot of pain.

1:05 PM BBT – Houseguests sent outside for lockdown. Everyone lounges.

1:55 PM BBT – Lockdown is over. HGs have a new, smaller table.

2:15 PM BBT – Red Alert! Paul gets back up and is off to fulfill his duties.

2:50 PM BBT – Natalie is back from talking with DR about her neck. She didn't get muscle relaxers and doesn't sound like she particularly wanted them.

3:45 PM BBT – HGs napping.

4:15 PM BBT – Victor is exercising to his music.

4:50 PM BBT – Paulie and Victor are up and chatting. Just general talk.

6:00 PM BBT – Paulie back to bed and Victor goes upstairs to be alone. He camtalks a little then goes for a shower.

6:35 PM BBT – HGs are up and moving around. Paulie is making a pie. Paulie has removed his shorts to bake in the nude aside from his apron and chef's hat.

6:50 PM BBT – Red Alert! Paul is making his rounds.

7:15 PM BBT – Paulie campaigning to James again. He says if he has his and Natalie's votes he thinks he can get one more to stay. He tells James he can be used as a weapon to get out big targets like Victor. He calls Vic a competition beast and says he is the person who can beat him to get him out. James says he'll give it some thought and talk to Natalie about it.

7:28 PM BBT – James wonders if fans are freaking out about how far showmances have made it this season.

7:35 PM BBT – Victor puts on a puppet show with Corey's eagle puppet.

7:55 PM BBT – Paulie tells Nicole and Corey that if he goes to the jury house then Victor better be the next one he sees.
Feed Highlights continue on the next page…