Saturday brought the Veto comp and a renewed effort for Paulie to pursue his target, but by the end of the night it sounded like not everyone is on the same side of that line with him. We could have a divided house for this eviction and a possible tie-breaker if this keeps up.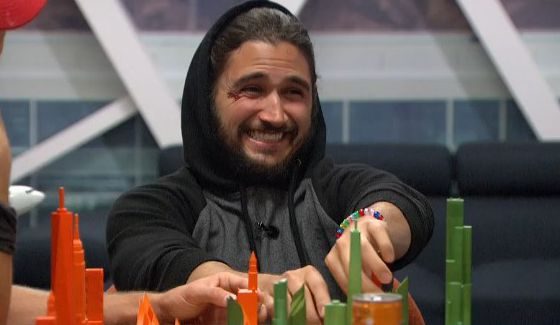 If you've got the Live Feeds (Free Trial) then you can watch all of these moments with the Flashback feature to go back and watch those important conversations or funny scenes you may have missed.
Big Brother 18 Live Feed Highlights – Saturday, July 30, 2016:
7:15 AM BBT – HGs woken and told to head to the HoH room.

8:10 AM BBT – Have-Nots reveal. They'll get marshmallows and trail mix for the week along with Slop.

8:35 AM BBT – HGs getting ready for the Veto players pick and realize things are going to move fast and early this time around.

8:40 AM BBT – Zakiyah has promised Nicole she won't put her, Michelle, or Paulie up on the Block.

9:20 AM BBT – Feeds back from picking players. Corey, Natalie, and Victor were selected to play PoV.

9:20 AM BBT – Da'Vonne wants Nicole to go up as a renom if one of the noms gets the Veto.

9:25 AM BBT – James tells Natalie to play hard for the Veto and if she wins to make deals for her own safety next week.

10:05 AM BBT – Paulie lets Nicole and Corey know about his late night talk with Zakiyah where she was upset at him for sleeping upstairs without her.

10:30 AM BBT – Nicole joking around with Corey that she'll talk a big game during the Double Eviction if she wins Veto. She wants to do something memorable.

10:40 AM BBT – Nicole tells Corey about the big payment she gets for coming back as a Vet and how she would have gotten all the money even if she went home first.

11:15 AM BBT – HGs have been having marshmallow fights on and off. Nicole got pelted in the face.

1:30 PM BBT – Feeds return from the Veto comp. Corey is pissed and Natalie discusses losing. A few minutes later we see Paulie wearing the medallion. Sounds like it might have been the sprinting comp that was new last season.

1:40 PM BBT – James and Natalie discussing what the plan might be. James knows Day is the target, but Natalie doesn't know. James doesn't like that Paulie might be trying to work with Bridgette and wonders why they need so many people on their team.

2:25 PM BBT – James and Michelle promise to not put each other up. He tells Michelle he can be very loyal if he knows who he can trust. Both agree to try and fight against the BD Da'Vonne plan.

2:30 PM BBT – Da'Vonne tells Bridgette not to give up and she's got to work on a plan this week.

2:35 PM BBT – Natalie promises Bridgette that she'll vote to keep her this week and won't nominate her next week if she's HoH.

2:40 PM BBT – Paulie tells James this week is done and starts discussing possible DE scenarios. James asks who is going to be evicted this week and Paulie tells him Da'Vonne is the plan.

3:05 PM BBT – HGs discussing who might get a care package next. They expect James to get one while Michelle and Zakiyah think they're villains on the show and won't get one sent to them.

4:00 PM BBT – Zakiyah retells her overnight talk with Paulie to Michelle. They worry about Paulie getting too far and how he could win.

4:25 PM BBT – Victor and Bridgette discussing the week's plan with going after Da'Vonne. Bridgette wants to make sure she gets farther in the game than Natalie.

4:45 PM BBT – Victor doing a camtalking session and Corey joins him. They're going over recent events in the game.

6:00 PM BBT – Backyard is open and the HGs are excited to get it back so early.

6:30 PM BBT – Guys are outside exercising. General talk.

7:00 PM BBT – Nicole, Natalie, and Zakiyah are off on the side trying to talk but the guys are getting all worked up and making lots of noise.

7:50 PM BBT – Nicole and Zakiyah talking about Corey and Paulie. Nicole says she's not officially with Corey, but they like each other. Zakiyah hopes her and Paulie's family will get along well.
Feed Highlights for Saturday continue on the next page.