Veto is over and Paulie's plan looks ready to steamroll its way through the week and on to Thursday night as his Backdoor target remains blissfully unaware.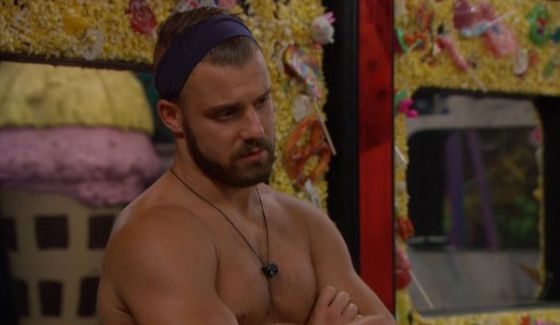 Soon after the Veto competition end the talks resumed for what was going to happen this week and it seems like most Houseguests are aware of the plan, but not the most important player in this scene.
Flashback to 2:39 PM BBT Cams 3/4 for James and Paulie alone in the HN room.
Paulie tells James "this week seems to be in the bag" with the Veto over his plan ready to roll so it's time to look on to the next round. Paulie asks James who he wants to go in the case of a DE but James doesn't have an answer, "I don't know man."
Paulie says they can talk to Corey for his ideas and offers that they have both Paul Victor (Paulie calls him "exec" which sounded like Victor then later sounded like he meant Paul, but I think it's the former.) and Bridgette to choose from for eviction picks later. Though Paulie adds that if they get rid of Bridgette "the girls will appreciate it." I imagine James would too since he wasn't happy to find out she would get a pass this week.
Getting back to the heart of the matter and what's going on now James asks "so who is going this week?" Paulie tells him that'll be Da'Vonne. James says, "She has no idea. None." And really she doesn't.
Earlier Da'Vonne was coaching Bridgette on making sure she didn't give up this week and to work on some sort of plan. Come Monday afternoon Da'Vonne will need to be working on one of her own too.
James and Paulie continue talking a bit more as Paulie says he was "down to work with her but she mentioned my name." Paulie says he could have teamed up with Da'Vonne but if she's against him then she needs to go because she "knows the game" and is a strategist.
Talk swings back to the other week when Da'Vonne told James she wanted to target the showmances. I said that was a bad move for her even if she was saying she meant the other two couples and not James & Natalie. Even still now James says he doesn't know why she told him that since "I'm a couple myself. I might be the last couple on your list…"
Michelle walks in at this point (2:42 PM BBT) and the talk breaks but things continue to look bad for Da'Vonne. She's out of safety chances this week with another missed HoH comp and a shut out from playing in the Veto. Unless Paul decides not to put her on the Block, since it is still his choice, then this could be the end for Da'Vonne.
Do you think Paulie will change his mind? Obviously he's going to use the Veto so Paul will have to renom someone, but since Paul is pretty much doing whatever Paulie wants this week then if Paulie changes his mind on Backdooring Day we could find a different target.
Another big question is whether or not they can keep this plan a secret. You know Day will be asking Paul who will be the renom and we already saw what a terrible liar he can be under pressure (the secret Paris room explanation was a disaster for him). If she catches wind of the plan ahead it could fall apart. Two more days to go until that Veto meeting.
Do you think going after Da'Vonne this week is the best move for the house. If she ends up on the Block next to Bridgette then who should be voted out? Bridgette has more wins, but Da'Vonne has more allies. The Houseguests will soon have to decide.