Big Brother 18 host Julie Chen spoke with THR this week to assess the season and remaining few days of Big Brother as we get ready for the season finale on Wednesday, Sept. 21st. Julie even opened up about who she thinks will pull off the win this summer among the Final 3.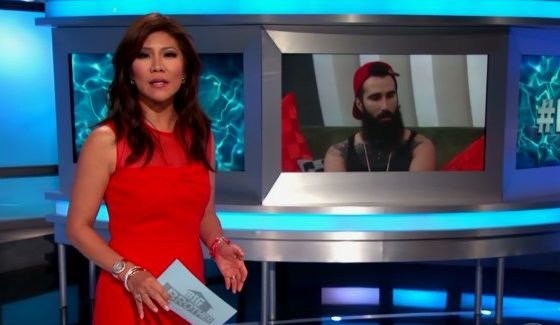 We're down to just James Huling, Nicole Franzel, and Paul Abrahamian and two of those HGs have already won their spots in the finale night competition, but that doesn't mean the third person can't get there and even win it all. So who does Julie think has the best shot to take home the crown and half million dollars prize? Read on.
Julie tells Hollywood Reporter that she is rooting for "your boy" Paul and not only that, but she thinks he's in the sweet spot to take home the win, if he can get to the F2.
"I am [rooting for Paul to win] because Nicole disappointed me this year. I guess she's playing the game, but I didn't like how she wasn't loyal to anyone but Corey. I didn't like her being a snake, as Michelle would say. My calculations show that no matter who Paul is sitting against, he wins. He has at least one more vote than the other person."
That's a narrow margin to pull off the win by just one vote, but that's all it takes if he gets it. It'd of course be very interesting to hear who she thinks is in and is out of his voting column, but even without that info I wouldn't be surprised if she's well informed by those who get to hear a lot more Jury talk than we do.
As for James's chances of winning Big Brother 18? Julie suggests that went out the front door with Corey when James voted him out this past week.
"I honestly think James made a mistake for his game, because if he kept Corey he would have had a better chance to win. Corey would have taken James to the final two over Paul. And if James sat next to Corey in the end, my calculations show that James would win over Corey. So he cost himself the game. I don't think he can win against Paul, and with Nicole, the swing vote is Da'Vonne from my calculations."
We can pull out of those details that Julie thinks Nicole could beat James depending on Day's vote, but not Paul if she ends up winning and sending James out the door to join the Jury instead of bringing him along to the Final 2. Meanwhile she's saying no matter what move Paul makes if he wins Round 3 then he's got the win in the bag.
Of course these are only speculations and nothing is assured until the votes are cast and the count is revealed. Who do you think can pull off the win next week? Vote in our poll below and share your thoughts about Julie's take and share your own predictions.
Read more from Julie's interview with THR.