Once again, it's a true final 3 day in the Big Brother 18 house. No competitions popped up to help guide game talk and the only things for the HGs to do are play cards or sleep. And that's what they did.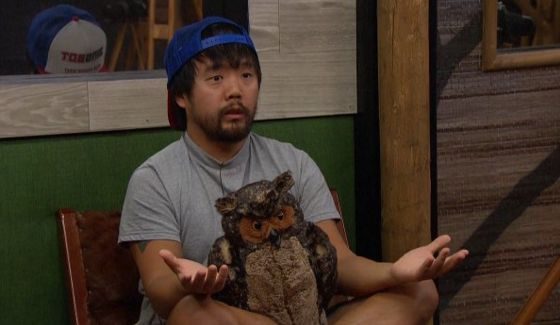 If you've got the Live Feeds (Free Trial) then you can watch all of these moments with the Flashback feature to go back and watch those important conversations or funny scenes you may have missed.
Big Brother 18 Live Feed Highlights – Friday, September 16, 2016:
10:20 AM BBT – HGs starting their day with Paul and Nicole in the kitchen getting breakfast ready.

10:30 AM BBT – Nicole settles in the Lounge to study events from the season in anticipation of Round 2.

12:15 PM BBT – James, Nicole, and Paul hanging out and chatting about family.

1:00 PM BBT – General chatter continues as they await the challenge.

3:15 PM BBT – Nicole is back to studying.

3:40 PM BBT – Nicole whispers about being frustrated with James.

4:35 PM BBT – Paul encouraging James for the upcoming comp. He's hoping the trick is speed, not thinking. James know he's going to have to fight because Nicole won't give up.

4:40 PM BBT- Nicole was sitting alone and starts talking to her family. She tells them if she had to pick a comp style for R2 it'd be a mental comp so she's hoping that's what she sees out there.

4:55 PM BBT – Nicole says she's ready to go right home after the show and doesn't want to go drinking and partying. She's missing home and ready to get back there.

5:15 PM BBT – Nicole rehashing R1 and says she gave it her all but couldn't hang on long enough.

6:05 PM BBT – James and Nicole discuss their showmances. James wasn't planning on it. He says when Da'Vonne told him the showmances needed to be split up he knew she had to go. (I'll never understand that decision to say that to him.)

6:30 PM BBT – HGs hanging around discussing the evicted HGs. Michelle comes up and no one is too big of a fan. Nicole and James didn't like her eviction speech at all.

7:30 PM BBT – Everyone sitting around playing cards. They're trying to decide if the comp will happen tonight or not. They're getting anxious.

8:00 PM BBT – Paul and Nicole whispering. They're so low to keep from James hearing that we can't hear either.

8:25 PM BBT – James says he thinks the next competition will involve all the houseguests' names. Paul gives James the wrong spelling of Jozea.

8:30 PM BBT – Paul asks James if Nicole has said anything about him. James tells him she said he'd never take Paul to the final 2.

8:39 PM BBT – Paul tells Nicole he gave James the incorrect spelling of Jozea's name.

9:00 PM BBT – HGs have decided there's not going to be a competition tonight. James and Nicole think it'll be tomorrow (today, Saturday).

9:25 PM BBT – They talk about competitions and HGs. They make fun of how awful his teammates (Da'Vonne, Jozea and Zakiyah) were at comps.

9:42 PM BBT – James sharing his info on the earlier alliances in the house. They all realize that Tiffany wasn't as crazy as they all thought and that she was set up by several people in the house, especially Michelle.

10:15 PM BBT – Nicole is in bed as James and Paul play cards. Again.
Feed Highlights continue on the next page…