We're just days away from discovering who will win Big Brother 18 and which two Houseguests will make up the season's F2 pair. Now that we're through the second round of the Final HoH we can start looking at each of the Final 3 for what they could be planning to do next.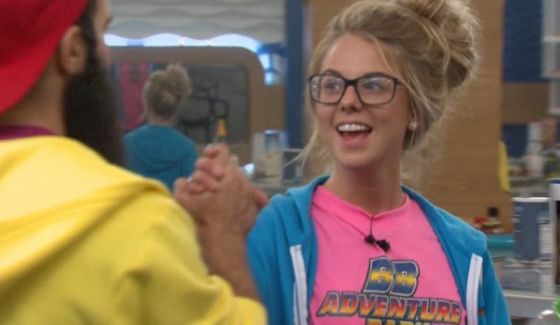 Nicole Franzel has two options for who she could sit next to at the Final 2 should that choice come her way with either Paul Abrahamian or James Huling joining her at the end. So what's the Vet planning for her potential trip to stand before the Jury?
Earlier this week when the Feeds returned from the extended Fast Forward blackout we soon found Nicole and Paul shaking on a F2 deal with James on the outside of their agreement. This deal was proposed by Paul after his confirmation that with his Veto win there was no chance he was letting Nicorey stay in the game together. While it seemed clear that Paul was sincere about his half of the agreement it's been less so with Nicole's intentions.
Later that same night when she was talking with Corey she asked for his opinion on taking Paul to the end but he quickly shot down that idea suggesting it could be game suicide and James was her safer bet. Interestingly Nicole didn't reveal to Corey any details of the deal she had just made with Paul as she might if she were to flaunt it as a fraud designed to fool Paul. That could have simply been to hide the fact that she was upstairs making deals that were game-enders for Corey.
The next day after Paul won Round 1 of the final HoH competition we heard another talk between Paul and Nicole that again appeared a convincing mutual agreement between them for heading to the F2 together. Flashback to 10:49 PM BBT on 9/14 to watch that talk.
But wait, a couple of hours later (12:35 AM BBT 9/15) Nicole is telling James she'd take him to the end "1000%." This was part of her talk as James basically offered to throw the R2 competition though it could be argued he was simply anticipating losing Round 2 and trying to make the most of it with promises while he still had leverage.
Round 2 is now over and James's leverage is gone with his loss to Nicole. So has Nicole's tune changed in anyway that might hint her latest plans? I'd say it has.
Deep in to the night after the Round 2 comp ended and Nicole was declared to the winner we saw a more enthused attitude toward Paul and a bit more reserved towards James. Flashback to 2:00 AM BBT 9/17 to find Nicole and Paul alone just after James is called to the DR.
Nicole and Paul jump around and celebrate their success with huge hug and high five. Paul promises Nicole that there is nothing James can say to sway him from taking Nicole to the F2 and she says the same goes for her as well. Nicole even repeats an earlier promise that she's ready to tell James that she's taking Paul to F2 if she wins R3. Paul asks if there is anything that's giving her pause in the plan for her to take him to the end. Nicole promises Paul they're good to go.
Now let's take a look at what she told James overnight…