James and Natalie are having an interesting week together on the Block as they've each promised the other they want them to stay, have actively campaigned in their favor, and then still managed to put in a good word for themselves to stay. Natalie's method on the latter raised a few eyebrows with what she revealed and soon word got back to James.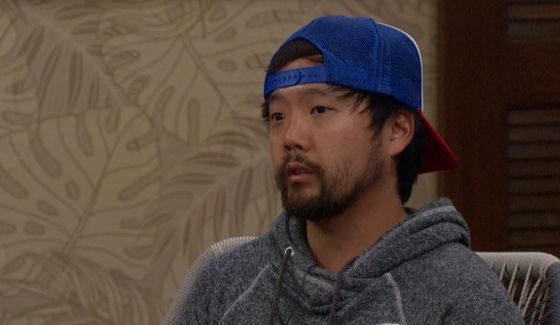 I would have covered this sooner but with the holiday weekend this one slipped to a later time than I'd usually like to have it written up. But when the issues started being raised by HGs again on Monday I knew it was worth swinging back around and getting up for discussion as we're likely to see it run through the week.
Flashback to 1:07 AM BBT 9/5 Cams 3/4 on your Live Feeds (get your Free Trial now).
James has just walked in to the HoH room when Paul asks James a "who said what" question. He wants to know how he ended up on the Block. Paul says he is now hearing that James told Natalie that Paul was coming after James as compared to what he previously heard that Nicole and Corey told Natalie that Paul was coming after James.
James immediately denies that he told Natalie that Paul was coming after him (James). "I promise you," says James. Paul says he doesn't care anymore but just wants to figure it out. James says he's sure it was Nicole who told Natalie that Paul was coming after James.
Paul tells James he's not trying to put a wedge between James and Natalie but Natalie is telling him something different. Now we're getting to Natalie's talk from the other night where she came to Victor and Paul to apologize and then blame shift things on to James as having given her bad advice. More details on that conversation here.
Victor expands on what Paul started to say. He tells James that Natalie told them she got bad advice from James "and she regretted taking that advice." "Whaaatt?" replies James. He's clearly taken back and sounds annoyed. James says she told him she came up here to campaign to go. The guys say she was blaming the situation on James when she came up for that talk.
Paul says Natalie did come up another time and told them she wanted James to stay and she was just upset because she would have used the Veto on James. Paul tells James he didn't believe her story at that point because she had previously campaigned for herself to stay while blaming their issues on James.
Paul promises James he was never coming after James despite what was being said. He again asks James if he told others that Paul was coming after him. James again denies it.
James tells Paul and Victor that Natalie used claims about Paul coming after them as her justification for putting Paul up on the Block though she regretted going after Victor. The guys tell James they don't believe she regretted putting Victor up since she came back and apologized for backstabbing them.
Now James starts to get in to the issues he's now having with Natalie and questioning their relationship. More details on the next page…