Being on the block together is really getting to Natalie and James as they spent half of the day in the Big Brother 18 house bickering. Meanwhile The Final Four continues to debate, but not really, as to which one of the two they're sending home this week.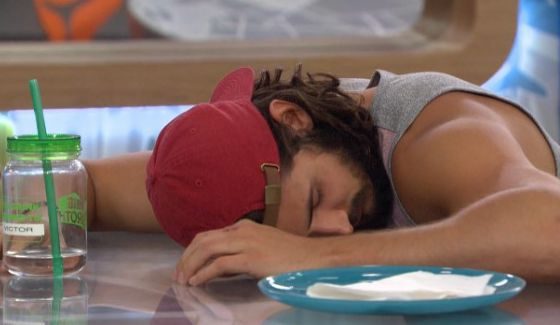 If you've got the Live Feeds (Free Trial) then you can watch all of these moments with the Flashback feature to go back and watch those important conversations or funny scenes you may have missed.
Big Brother 18 Live Feed Highlights – Monday, September 5, 2016:
9:50 AM BBT – HGs finally getting up and starting their day. Natalie goes out for a jog and some weights while the others get dressed.

10:50 AM BBT – Corey was called to the Diary Room to prep for the PoV Ceremony.

11:30 AM BBT – Feeds are back. Natalie is preparing for her last week there. Natalie again upset that they worked with Nicole and Corey instead of sticking with their F5 group. James takes the blame again.

11:30 AM BBT – Paul talks with Nicole about who they should evicted. He mentions James told him that Nicole had also been telling James that Paul was coming after them. Nicole denies it as a crazy story.

11:40 AM BBT – HGs have shifted to the backyard to get some sun. Natalie wonders if the next eviction may arrive early. James said they'd find out beforehand.

12:00 PM BBT – James and Natalie talk about him taking his daughter to Disney World. He's worried about the cost and challenges of traveling with a four year old. General chatter about traveling.

12:15 PM BBT – Nicole lets Corey know that Paul heard from James about them telling Natalie that Paul was coming after James. Nicole denied it at the time but now worries that Paul will want James out. They plan to continue to push for Natalie to be evicted but not so hard and act like they're considering evicting James.

1:10 PM BBT – Natalie and Nicole chat and discuss how stressful the game has been on mind and body. Both agree their showmances were a rock to rely on during the harder times of the game.

1:35 PM BBT – Natalie again tells James she thinks it's her week to go. He agrees that there is likely talk going on about it but doesn't suggest it's definite.

1:40 PM BBT – Paul and Nicole discuss again trying to blindside James this week so he isn't ready to compete.

2:10 PM BBT – Natalie tells James she won't campaign against him but he says it's okay if she does against him.

2:20 PM BBT – James promises Natalie he'll tell her if he finds out he's staying.

2:45 PM BBT – Natalie complaining to James that she made the worst Big Brother move possible by turning on Victor. James says she didn't because how could they know he'd come right back. If there was no Jury Battle Back, explains James, then Victor would be gone, Paul would be on his own, and Nicole and Corey would have stuck with them.

3:30 PM BBT – Nicole and Corey hanging out playing dominoes.

5:00 PM BBT – Natalie and Paul are talking about life back home and family. General life interests.

5:25 PM BBT – Paul tries the phone booth again but no luck. He heads to take a nap.

5:30 PM BBT – James tells Victor he hopes he's not getting played [by Natalie] on TV. Victor agrees that he's worried about that for James too. Natalie arrives and the talk stops but James and Natalie don't acknowledge each other.

5:40 PM BBT – James and Natalie are alone in the backyard but not talking. James finally starts and says other HGs can sense the tension between them. Natalie gets annoyed and says there's no tension and she just wants to relax and enjoy her last few days. Commence arguing for 20 mins as they say the same things back and forth, over and over.
Feed Highlights continue on the next page…