Tonight on Big Brother 18 nine votes will be cast and a fourth Houseguest will be evicted this season as we continue to fill the upcoming Battle Back twist's roster. Who will be joining Glenn, Jozea, and Victor next? We've got the answer.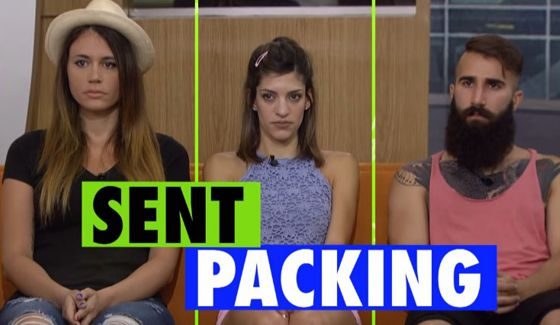 The bad luck streak continues for Revolution as after days of wavering things have locked in for another one of Jozea's allies to follow in his footsteps right on out the front door.
Our three final noms for the week are Tiffany, Paul, and Bronte with the latter as Frank's Roadkill nominee. The Veto was not used this week so nothing has changed in the lineup since Friday night. With those three on the Block and the HoH on the sidelines that leaves just nine votes to make this week's decision.
After the back and forth that teased a rescue for Tiffany it looks like that is finally a near done deal. Overnight we saw as Paulie, Nicole, Corey, Zakiyah, and Michelle came together to agree as a group of five votes to keep Frank's target in the game. They're all after Frank next, well Nicole and Corey waver on that, and the group realizes it makes more sense to evict a potential ally for Frank than his target.
Bronte: "Am I supposed to be campaigning?"#newbieproblems #BB18 pic.twitter.com/jhW0zS8ggk

— Big Brother Network (@bigbrothernet) July 13, 2016
The other four votes belong to Da'Vonne, James, Natalie, and Frank. Day had said she would do a pity vote for Tiffany against Bronte so that may shift things to 6-3, but as of now neither Day nor James know of this overnight vote flip. Frank definitely doesn't know so he'll be voting against Tiffany. Natalie is just bubbling her merry way along this week and wouldn't possibly vote out Bronte so she's another vote against Tiffany.
If the group of five decides to tell Day and James then that'll be interesting to watch. Nothing should change for Day, but James will be in a bad spot. He won't want to vote against Bronte and upset Natalie, but then he's also got the rest of his allies to consider. They don't need his vote but it could concern them if he declines to join them. If he doesn't find out in advance then it won't matter and he can avoid this dilemma.
We're just a few hours away from this week's live vote and it's sure to generate a lot of heat no matter which way things go. I'm now firmly expecting Bronte to go, Tiffany to stay, and the rest of the Houseguests to freak out over what happens next. It'll be a fun night!
Who do you think will be evicted tonight on Big Brother? Share your thoughts below.