Last night things were set to get busy as we found out who went home on Big Brother 17 while one Juror prepared to return to the game and a new Head of Household.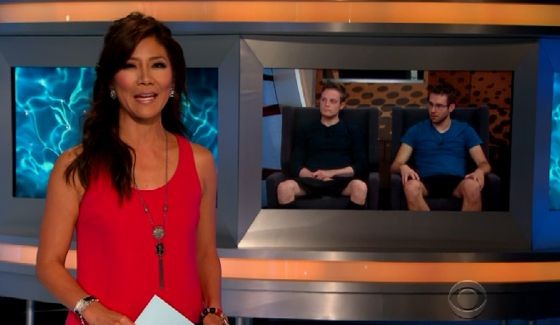 We were settling in for a packed episode with a lot going on after everything that went on Thursday as John continued to campaign and we nearly had an exciting upset in the Diary Room. Gotta love how this season refuses to be constantly predictable as what usually happens in past seasons.
Ready to find out who goes to Jury and who takes control next? Stick with us for our live recap right now for the latest BB17 results. You can find us on Facebook, Twitter, and by Email Updates.
Big Brother 17 Week 9 Votes:
Meg votes to evict Johnny Mac
James votes to evict Johnny Mac
Vanessa votes to evict Johnny Mac
That's enough. It's official.
Julia votes to evict Johnny Mac
Liz votes to evict Johnny Mac
By a vote of 5-0, John McGuire has been evicted from Big Brother.
We're waiting to find out how the returning HG will be decided and if it'll be a standalone competition or integrated with the rest of the HGs as we've seen both options in the past two seasons.
Big Brother 17 Week 10 Returning Juror:
Endurance competition! Yes, the HGs & Jurors will be competing in an endurance battle together to be the next HoH and we're covering the whole thing live from the online Feeds. Want to watch with us? Jump on your Live Feeds or get the Free Trial now to join us and see it happen live.


Big Brother 17 Week 10 HoH Competition – "Dizzyland":
Last Juror standing wins his/her way back in. Last HG standing wins HoH.
HGs spinning on swings going around in a circle. They'll get dizzy and fall off.
Follow our live blog recap to find out who won HoH tonight!
When tonight's episode ends we'll be racing back to the Big Brother Feeds to watch tonight's HoH endurance comp! Join us on there with the Feeds' Free Trial & see what the fuss is all about.
The new Head of Household will have to make nominations on Friday followed by the Power of Veto competition on Saturday. We've got a lot of fun events ahead on the Live Feeds so don't miss your chance to watch along with us.
Remember that Julie Chen announced next Thursday is another Double Eviction! It's gonna be a fun few weeks of Big Brother 17.