One member of the Big Brother 17 Jury was set to return to the game last to compete again for the half-million dollar prize. Who would it be?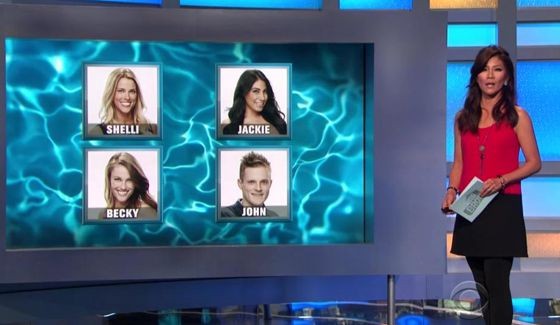 So far we had seen Shelli Poole, Jackie Ibarra, and Becky Burgess ride off in to the sunset but last night all three return to battle it out for a chance to return along with the latest evictee, who looked most likely to be John McGuire.
Over the past two seasons we've seen a jumbo endurance comp where all of the active Houseguests plus the first four evictees competed side by side to return. The last surviving Juror was guaranteed a chance to come back along with a continued shot at the overall HoH. Then there were two separate comps last season where first the returnee was decided then the HoH was held later overnight.
Before the show it looked like there would be an athletic comp and that meant the chance for an endurance challenge. If they were ready all compete during the live show then that would suggest to me it could be the "all together now" approach instead. I like that one better so maybe my expectations were biased.
I soon received confirmation from CBS that yes, yes Thursday's show would have an endurance competition so we could expect all of the Houseguests to compete in unison! From that we should think the longest lasting Juror will re-enter the game and the overall surviving player will obviously become the new Head of Household.
Wow, these Jurors are all fantastic competitors, but that didn't guarantee us an excellent endurance comp. Get our full run down of this "epic" HoH challenge that lasted about 12 minutes.
Big Brother 17 Week 10 Returning Juror:
John McGuire has won his way BACK!
John outlasted, in order of drop out, Jackie, Becky, and Shelli to get right back in to the house just minutes after his eviction. Liz and Julia are freaking out!
John nearly won the HoH and came in second losing to Vanessa, the new HoH. All four Jurors outlasted everyone but Vanessa so just as we expected the returning Juror nearly went from evicted to HoH.