Last night on Big Brother 17 the remaining Houseguests had to choose whether John McGuire or Becky Burgess would be evicted as they went inside the Diary Room to reveal their votes. After that it was time for a new Head of Household.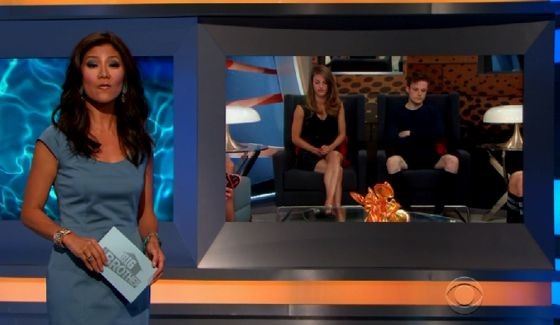 There had been a lot of activity in the past few days of plotting and planning against Vanessa. While CBS tried to make that appear as a danger for her in the current week, most of the talk was actually how to get her out in the upcoming round. This week's HoH could decide all of that and CBS has confirmed it will be an endurance HoH comp that will play out online so have your Live Feeds ready!
Join us on Facebook, Twitter, and by Email Updates to get all of our latest Big Brother updates.
The votes look stacked against Becky and with her toe injury from the Veto comp it may be best for her to go now, rest up, and get ready for the returning Juror twist that we expect to arrive next week. Maybe we'll hear more about that in tonight's show.
Big Brother 17 Week 8 Votes:
Steve votes to evict Becky
Vanessa votes to evict Becky
Meg votes to evict Becky
Austin votes to evict Becky
That's enough votes. It's official.
Julia votes to evict Becky
James votes to evict Becky
By a vote of 6-0, Becky was evicted from the Big Brother house.
The surviving players will head out back for a new competition and if Austin is right, then Vanessa may be willing to throw this comp expecting safety from all sides of the house. Throwing such an important competition seems like a bad idea, but you never know so let's see what happens.
This week's Head of Household competition won't be finished during the show but instead will spill over in to the Live Feeds where we'll be watching the comp play out until there's a winner and HG put in control of the next nominations!
Big Brother 17 Week 9 HoH Competition – "Ready, Set, Whoa!":
HGs have to hold a running position & "Go!" at the right time in 6 rounds
Round 1: Meg is last & eliminated
Find out who won HoH in our endurance competition results post here.
When tonight's episode ends we'll be racing back to the Big Brother Feeds to watch the live HoH comp. Join us on there with the Feeds' Free Trial & see what the fuss is all about.


The new Head of Household will have to make nominations on Friday followed by the Power of Veto competition on Saturday. We've got a lot of fun events ahead on the Live Feeds so don't miss your chance to watch along with us.