CBS announced this week's Big Brother HoH winner would be decided in another endurance competition following tonight's eviction and fans could watch it play out in full online.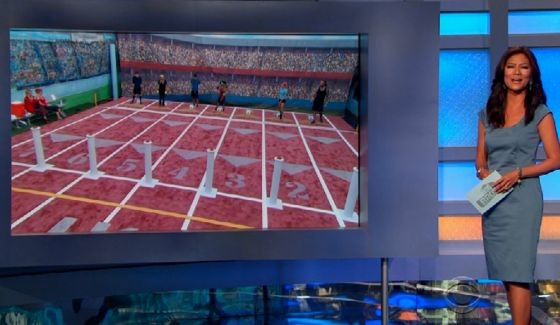 Follow an exciting pattern of high stress challenges the return of another endurance competition was greatly welcomed and I couldn't wait to see who pulled off the win in the battle to see who gets to take a big swing at evicting Vanessa Rousso as HGs planned overnight.
In the past few endurance competitions we had seen John, James, and Julia have strong performances along with several other HGs so there are a lot of potential winners here. Vanessa could be in real trouble though if it's like the slip & slide one the other week where she did not perform well.
Once last night's Big Brother eviction show was over we got to watch parts of the HoH competition online on the Live Feeds and you can join us too with the Free Trial. It's a one-week test run of the feeds, but if you decide to keep it then you can watch the entire season for $6. Silly cheap.


Big Brother 17 Week 9 HoH Competition – "Ready, Set, Whoa!":
HGs have to hold a running position & "Go!" at the right time in 6 rounds
Round 1: Meg is last & eliminated!
7:10 PM BBT – We are still waiting on the Feeds…
7:20 PM BBT – Feeds are back! Julia was eliminated.
7:25 PM BBT – Vanessa flinched, let go of a button, and she was eliminated.
7:30 PM BBT – John, James, Steve, and Austin are the only HGs left.
7:32 PM BBT – GO! 4 guys dash to their buttons, but several missed. Feeds cut.
7:37 PM BBT – Feeds return for a moment and we see John was eliminated.
7:45 PM BBT – Feeds are still on Loops. I don't know what's going on.
7:46 PM BBT – Feeds came back. John was definitely eliminated.
7:48 PM BBT – Feeds cut again. Sigh.
7:55 PM BBT – Feeds back. Steve is out. James & Austin remain.
7:58 PM BBT – Austin beat James. Austin is the new HoH.
Be sure to join us on Facebook, Twitter, & by Email Updates so you get all the latest news. Keep watching your Live Feeds to find out who could be going up on the block. Are you excited with the Head of Household this week? Share your thoughts!