The Power of Veto Ceremony is coming up quickly for the Big Brother 17 Houseguests which meant this week's targets, Clay and Shelli, and had one last chance to push for safety.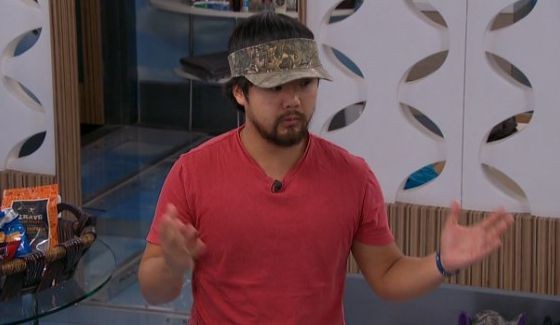 When Clay and Shelli came to the realization that "it's either us or him" they were ready to talk to James but just how much were they willing to tell him?
Flashback to 4:45AM BBT 8/3 as James meets up with Shelli and Clay in the bathroom downstairs. Shelli wants to know if anyone is campaigning to save them like they've been told is happening. James says no, that everyone was content with them being the noms. The couple is ready to talk with James behind closed doors.
They head upstairs for their big reveal of info but soon it's just Clay and Shelli interrogating James for info instead. James doesn't give up much of anything so eventually Shelli is ready to talk. She starts out by naming Vanessa… as someone she finds loyal and trustworthy. Well there goes that. I think James was expecting her to sacrifice details on Vanessa, but no.
Shelli and Clay begin to detail out Austin and his Judas persona. They find him scary and must be this week's target. James goes to get Meg and Jackie to join and hear this talk. Flashback to 5:50 AM BBT to hear more of the talk with all five of them in the room.
After Shelli gives her whole talk Jackie says she feels like this is all old information aside from the Judas alter ego. Jackie wants to know why Steve wasn't the target last week like they had planned instead of Jason. Shelli again presses that Austin is scary, but Jackie isn't buying it.
Jump ahead to 6:20 AM BBT as Chelli have left leaving James, Meg, and Jackie to discuss. Jackie isn't buying any of the stuff Shelli was selling. She wants to know why is Austin suddenly the big threat this week when they had him dead to rights last week but let him walk.
Jackie throws it out there: if either Shelli or Clay don't go home this week then it needs to be Austin. She says they can't keep the three of them together. Jackie says if they get Vanessa out then it'd make Shelli and Clay happy. Jackie is pressing hard for Vanessa to be the renom.