Later today in the Big Brother 17 house the remaining eight Houseguests will settle in for the Power of Veto Ceremony where the winner will have to make a choice and force Vanessa, the current HoH, to make one of her own.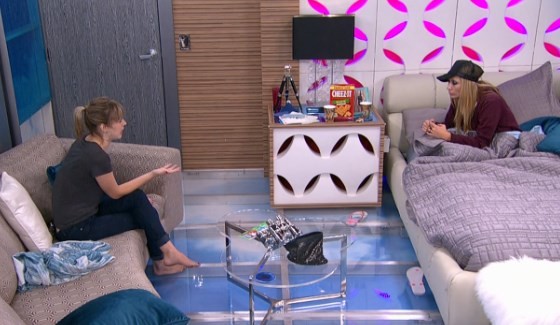 We've been listening to discussions since this weekend when the Power of Veto was won and we knew it was obviously going to be used. The big question then became: who will be going up on the Block as the renom.
While the Austwins immediately saw James's Veto win as a second chance at getting John on the Block Vanessa actually has another plan for him. John needs to stick around to help her with that pesky "strong fortress" so he isn't going anywhere near the Block.
Instead Vanessa told the Austwins that she doesn't trust them enough to not be tempted to vote out John over Meg. With that in mind Vanessa is sticking to her plan to put Julia on the Block making the final noms of the week: Meg Maley and Julia Nolan.
Overnight Meg made a pitch to Vanessa that she'd be willing to lay down and not try to win HoH then be willing to go up as a pawn even if James wins HoH. Meg pleaded that it was just too soon in the Big Brother 17 season for her to go. Reminder: season finale is in three and a half weeks. Vanessa gave her a lot of smiles and nods, but it won't change things. If anything Vanessa will just use this opportunity to gather for more info and Meg will still go up on the Block.
Gotta say that's not a very exciting pair of nominations considering there's not an HoH or PoV win between them, but I guess that's how players like that end up in the F3. Of course I think Vanessa would love to get to the end against Julia as her ally while James would love to keep Meg, his equivalent of Julia, in the game too.
I can't harp on it enough though that this is a big missed opportunity for Vanessa. If she would instead reach the clearing and see that putting Liz on the Block is infinitely better for her own chances of getting to the end we could have a much more interesting week. However, with the justification of saying John would be too tempting a target to put up over Julia then it'd now be hard for her to not accept the same criticism of suggesting Liz going up on the Block.
But come on Vanessa, it's right there! Liz goes up. You say it's because neither Austin nor Julia would ever dare betray her and they wouldn't. You don't vote against her, Austin doesn't vote against her, and she could still go to Jury. With her out of the way you'd have Austin to yourself and you'd have Julia to yourself. But no, you'd prefer to march on to the final three weeks with the Austwins securely positioned in their "fortress" and you banking on John winning HoH to put them up. Grr.
Anyway, that won't happen. Today at the Veto Ceremony James will use the PoV on himself and Julia will be named as the renom. Votes will hold and Grandma Meg will be sent to the retirement home as the F7 HGs head in to a Double Eviction on Thursday night.
Check back for the official spoilers around early afternoon when the Veto Ceremony is typically held and we can have more discussions then on what will happen next.