Overnight Vanessa relayed the bad news to John that the Big Brother 17 house had settled on an eviction decision and he came up on the losing end of the debate.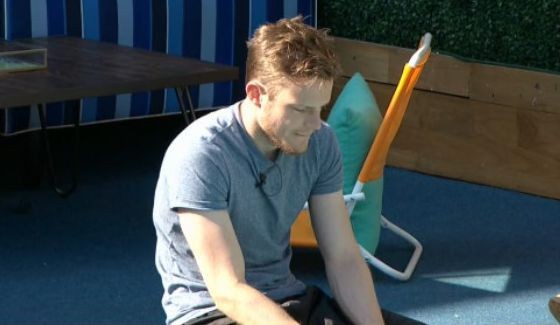 Even in the face of this news John wasn't ready to give up though and offered Vanessa another plan to flip the vote and the house this week while taking control and targeting the Austwins.
Flashback to 11:20 PM BBT 8/26 as John heads to bed where Vanessa is waiting to talk with him. She tells John that she did what she could but was unable to sway the group's decision. Vanessa explains that his ability to reconnect with any of the returning Jurors plus his strength in comps made him too dangerous to keep.
John tells Vanessa he doesn't want them to just sit here and end up looking foolish though. He offers a counter plan: ditch the Austwins, join her vote with the Goblins, and the four of them can take on the one competent, and competing member of Austwins: Liz. That's not a bad argument.
Vanessa isn't as hopeful. She explains to John that James and Meg are closer with the Austwins than he thinks. She suggests they are higher in Austin's trust than even she is, but that's likely more of her talk where she likes to present herself with the "I'm all alone in this game!" angle.
John hasn't given up hope though and says he'll talk with James and Meg in the morning. He'll leave Vanessa's name out of it and will only say he'll try to flip her vote too. Unfortunately that could be enough to guarantee this won't work.
Vanessa has to know she can't go in to a F4 situation with the Austwins as we discussed yesterday. But here she's still displaying reluctance to taking a big move and making that shift now when she really does have an opportunity. Of course it could be the wrong choice if Liz or Julia won, but then again we know for sure down the road is just another bad situation waiting for Vanessa against the Austwins.
John's right that if he and Vanessa teamed up with James and Meg then it'd practically be the four of them against Liz. This assumes that Julia will keep her stellar performance track record intact. Of course it also leaves out the mystery of the returning Juror, which they don't know for sure but do expect tonight.
James and Meg discussed just two nights ago that they needed to go after the Austwins head on but they can't quite seem to disconnect from their Brass Tacks alliance with Austin. If John comes to them and asks them to confirm they'll flip without him telling them for sure that Vanessa would flip then neither side will agree to that. John needs to get all four of them in a room if this has any chance. That's why I'm sticking with John heading out tonight.
We'll keep watching today though and see what happens as the Houseguests prepare for tonight's vote. Do you think John can flip the Goblins and get Vanessa to join in against the Austwins or is his fate set?