It was eviction eve in the Big Brother 17 house and after days and days of going back and forth, it seems they've settled on the person who has to go.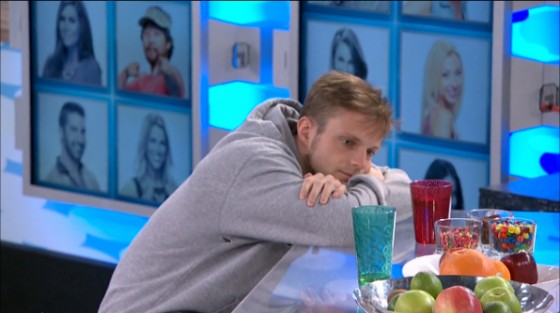 And rarely in this game does anything change from the night before eviction to the actual eviction. But it has happened before, so we'll see what goes down tonight. In the meantime, read about what they all decided to do any what they're all thinking about for the upcoming week.
Big Brother 17 Live Feed Highlights – Wednesday, August 26, 2015:
5:30 PM BBT – John tells Vanessa he still needs to work on James and Meg to flip their votes. Vanessa promises John she'll tell him before the vote what she'll do and it'll be what's best for her game. John plans to tell James/Meg that he's not close with any of the Jurors.

6:10 PM BBT – Austwins agree that they need to keep Steve. "100%," says Austin.

6:15 PM BBT – Vanessa arrives and hears they want JMac out. She agrees and says she feels the same way.

6:20 PM BBT – Vanessa suggests Meg and James want Steve out. Austin wants Steve to know that to make them his target.

6:28 PM BBT – Austin's Angels (Do I really have to use that term???) think keeping Steve is best because he can serve as a shield (what if he wins veto?) if James, Meg or returning juror win HOH.

6:35 PM BBT – Vanessa, Austin and the twins are being nasty about John and Steve and it's really hard to watch.

6:40 PM BBT – Vanessa wants James and Meg to vote to evict Steve because a unanimous vote only helps  them stay clean in this eviction.

6:55 PM BBT – More nastiness from the twins about John.

7:50 PM BBT – HGs talking about The Amazing Race. Vanessa says she and her ex-husband almost made it on the show.

8:25 PM BBT – Dinner time for HGs.

9:00 PM BBT – HGs back to playing their annoying nightly games in the house.

8:51 PM BBT – Johnny Mac and Meg talk about the vote. She says it seems pretty 50/50 right now. Meg isn't a fan of Steve's but she's not sure what she should do. John says Steve is better at this game than he is.

10:00 PM BBT – Meg and James head up to the HOH room. Austin tells them they've decided to vote to get rid of John. Austin tells everyone that JMac thinks he's staying.

10:05 PM BBT- JMac tells Vanessa that he knows he's going (Austin doesn't know anything).

10:10 PM BBT – Vanessa rambling on about Big Brother like she actually knows the game.

10:30 PM BBT – Meg confirms with the HOH group that Johnny Mac is going. She says to keep her posted if anything changes.

10:33 PM BBT – Steve wants to tell John that he's staying and John is going but Liz is refusing.

10:38 PM BBT – Steve tries to joke with the HOH group by saying he'd nominate the returning juror along with Austin. They get mad and tell him now is not the time to joke.

10:40 PM BBT – Austin thinks true BB fans won't find John's speeches funny or get his humor (wrong, Austin. America loves JMac and doesn't like you even a little). Steve, also wrong about what America says if fans were voting on the returning player, Shelli would come back for sure.

11:20 PM BBT – Vanessa lets John know he doesn't have the votes. She says the group is worried that he could team up with any of the returning Jurors and he's better at comps than Steve.

11:25 PM BBT – John tells Vanessa that if he gets James and Meg to flip then the four of them would basically be taking on Liz in Thurs' HoH comp and they could win it then go after the other side. Vanessa asks if he thinks she can trust John, he says she could but Steve won't be willing to make an aggressive move like he would.

1:30 AM BBT – Steve is pacing while the others sleep. He's practicing his speech.
Vanessa would prefer to keep John but she can't get the twins on board which means she'd have to draw the line on Thursday night. I won't be surprised to see her trying again more during the day, but things look set on John heading out to this returning Juror competition.
You can watch all of these Big Brother events using the archives Flashback, the DVR-like feature of this year's Live Feeds which means it's always live, even when you missed it! Sign-up now to get the free trial to watch it all live & uncensored.
click images to see full-size