After weeks and weeks of of the same alliances working together, Vanessa decided to redrawn the lines and flip the Big Brother 17 house upside down. Translation: nothing is really going to change because Vanessa still doesn't realize she's letting a showmance and a set of twins stick around a little too long.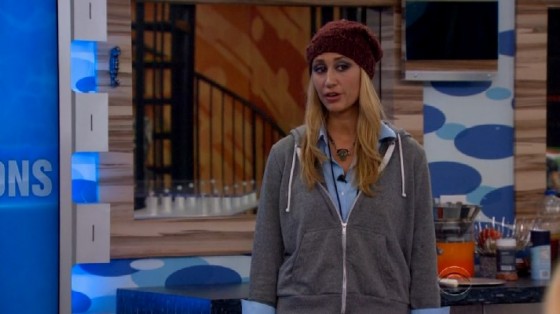 The episode starts off at the beginning of the Head of Household competition, and since this group of players aren't great at physical competitions, we get to see about all of this play out because it lasted all of 15 minutes.
We also get to see way too many interviews to fill some time and try to trick TV-only viewers into thinking this competition wasn't a huge mistake. We finally get to see Liz fall again (remember when she fell during the commercial break last week?). Steve and Meg also drop, which we also knew before the end of last week's episode. So now we're at the part that we didn't see last week.
James is the next person out, so it's Vanessa, Liz and the jurors that remain. Liz drops next. Jackie is the first juror out because she ends up sitting on the disc. Becky is off soon after then Shelli. John has earned his way back into the game.
So it's John vs. Vanessa. And Vanessa offers John a deal but he doesn't accept the deal because he doesn't want the others to know they made a deal, but he tells us he wants the deal. So John drops and Vanessa is the new Head of Household.
Vanessa tells us that she wants to flip the house on its head, re-draw lines and that anything is possible. So she's going to target Austin and the twins then? Haha, yeah right.
Speaking of Austwins, they are NOT happy that Johnny Mac is back in the house. They know that he's coming for them and it is in their best interest to get him right back out the door. Liz says to Julia about JMac "Don't even unpack, you're done."
And again, Vanessa says this HOH gives her the chance to "press reset" and "redraw the lines." This should be good! Are you excited?? Haha, yeah right.
James and Meg think that this would be the week for Vanessa to go for the Austwins (so do all of us). But will she? Maybe! Haha, yeah right.