Big Brother 17 is coming down to the wire and Houseguests are scrambling to make deals to keep them in the house. Now Steve joins Vanessa in the game of making silly deals with Austin and Liz that wouldn't possibly be refused nor would they ever be honored.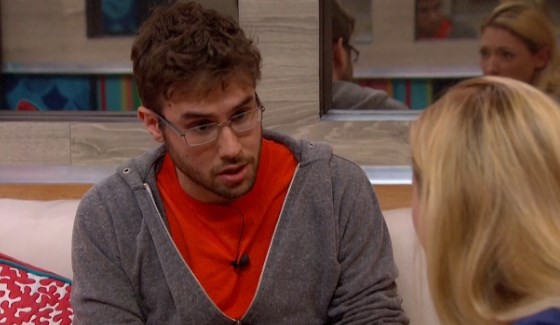 Last night Steve went to Liz and asked for her to make him a big promise while calling it a small favor and suggesting he had no leverage to do so. Gee, where do I sign? Now where's my free toaster too?
Flashback to 8:04 PM BBT as Steve sits down with Liz in the Lounge. He immediately points out he doesn't have a vote in this week's eviction but because Vanessa and John had promised him to vote how he wanted which they're now going against he'd like a "small favor" from her in return.
Steve says he knows he can't avoid the Block under her HoH, but would like Liz to break a tie in his favor next week if the vote splits. "Yes!" immediately proclaims Liz. Smart lady. Of course you say yes to this just as she and Austin said "Yes!" to Vanessa's string of demands. And guess what? Liz has no intention of honoring Steve's request either just like she decided on handling Vanessa's deal.
Jump ahead to 8:15 PM BBT as Liz relays Steve's deal request to Julia. Predictably Liz says she's not sticking to this deal as Julia calls Steve an "idiot!" for thinking this could work. It really doesn't make any sense for Steve since he has no leverage and both of his two main targets stayed this week. Talk about bad luck for Steve, huh? Julia and Liz agree that Steve is their target for what he did this week.
Liz and Austin are going in to this week in a pretty good spot with two top competitors and both able to participate in the HoH competition. Should either win the easiest thing to do is put up John and Steve then wait for the Veto to see what should be their final decision. This would make it look like they're sticking with Vanessa's terms for as long as possible and should Steve still be eligible for eviction next week then it probably will be him out the door. Should Steve escape the Block then watch out Vanessa as this would be too tempting to not take advantage of.
Meanwhile, Steve's best chance at survival is going to be a Johnny Mac HoH to both control the noms and any tie-breakers in the next eviction, which mind you will be arriving early thanks to next week's schedule shift. A Vanessa HoH would be interesting since she'd again have to pick a side and may be something she decides to avoid, but would she really be that reckless this close to the end?
The new Head of Household will be decided during tonight's live eviction show so get ready for more Big Brother 17!