Loose Shelli lips sinks Sixth Sense ships on Big Brother 17 and that doesn't make alliance matriarch Vanessa too happy. Not happy at all and we know what can happen then.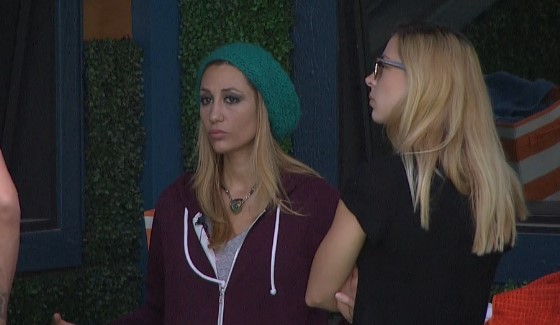 After Shelli and Clay revealed way more than they should have in an overnight talk with James there was an immediate reaction of guilt that sent them to Vanessa to beg forgiveness. All might not be forgiven, but Vanessa is on it.
Just before the Veto meeting James let Austin in on what he had learned from Shelli which put him on spin mode where he ran to Liz to share the news. No one was happy with this and Vanessa knew it was just going to get worse.
After the meeting Vanessa went to Austin and the twins to vent her anger. Flashback to 12:25 PM BBT 8/3 on your Live Feeds. Sign-up for the Free Trial now to start watching the in-house cameras. Vanessa tells them that depending on how much Shelli and Clay revealed that it might be time to work with James. Austin like this idea and tells Vanessa he thinks they it's sincere on James's part.
Jump forward to 1:14PM BBT as Vanessa gets Shelli alone to find out what was spilled. Vanessa wants to know just how bad this is but she's assuring Shelli that everything is going to be okay. I'm guessing Vanessa is hoping to contain any further leaks from a possibly frightened Shelli.
Shelli promises Vanessa she did not reveal any alliance information but suggests that James extrapolated it out of the discussion. That's true as James figured it out once Shelli and Clay left the room. Shelli suggests he was using that to get a confirmation from Austin by acting as though he already knew about it.
Vanessa promises Shelli it's not a lost cause and she'll need to apologize to Austin and the twins, but when it comes to campaigning for the five vote this week, that's best left to Vanessa. Probably a good idea for Shelli, as long as Vanessa doesn't get second thoughts and shift her goals.