Down to the Final Six of Big Brother 17 and two of those Houseguests are set to hit the Block today as the new Head of Household, crowned late last night, has been working to make the best decision for moving on in the game.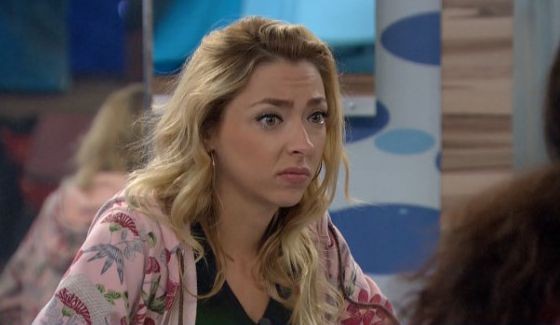 There aren't many options when you've got five HGs to pick from and there are deals thrown all around the Big Brother house, but choices have to be made and after much debate a decision was reached.
Soon after we learned that Steve had won HoH we knew what he would need to do, but was he finally willing to turn on the Austwins and make them his targets? Looks like that's a resounding yes, but the question soon became how to best achieve their demise.
Steve is one of those eager to please people who would rather not stab anyone in the back and have everyone safe under his reign, but Big Brother doesn't work like that. So when Austin pulled Steve aside, Flashback to 1:20 AM BBT 9/4, we shouldn't be surprised to hear Steve promise Austin safety this week. Oops. Someone didn't check with Vanessa first, did he?
Austin is pushing to avoid a situation where the twins are up and he becomes the renom. Austin says JMac could flip and vote him out with Julia as the weaker option between them. Steve promises he'll be safe either way, but Austin wants to make a deal with the three of them including John. Steve pushes back with his "I'm not emotionally available for a talk right now" but starts to promise "no front door, backdoor" then holds off and skirts around it.
A short time later Vanessa pulled Steve in to the Lounge. Flashback to 1:40 AM BBT. She wants to know if he's made his decision yet on noms. Steve tells Vanessa he's looking to put up the twins. Wrong choice, try again, says Vanessa. She warns him that if Julia and Liz are up, Austin wins Veto, then either John or Vanessa will have to go up and they'll be voted out since the Austwins would control the vote. Yes, they would. Maybe you shouldn't have let them get to F6, huh?
Vanessa promotes the idea of instead putting Austin and Liz up since they're the stronger two of the three. The risk is still there, she explains, that the safe one could save a second and soon vote to protect the third, but it minimizes that risk by putting the weakest of the three on the sideline.
Remember that at this point everyone will play for the Veto. Six HGs and six PoV players this week. There are no chances of someone not being included.
If Julia is kept off the Block then either Liz or Austin win Veto, they'll come down, and Julia will go up. But yes, as noted, if Julia is down and wins Veto then she'll save Liz leaving Austin on the Block and he'd most likely be kept safe by the twins unless maybe Vanessa goes up and somehow they convince Julia to vote out Austin. Never know.
Maybe there's another way, Vanessa suggests. She thinks she could talk Julia in to not using the Veto if she wins the PoV comp therefore leaving the noms of Austin and Liz as is. That seems like a longshot. Or is it?