Big Brother 17 will wrap up in less than four weeks and we still have eight Houseguests remaining including a "strong fortress" trio that seems to just now be coming to the forefront of Vanessa Rousso's attention and concerns. This week her moves may be jeopardizing any last chances to turn the odds.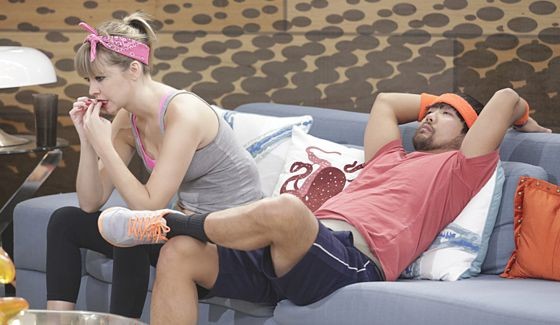 Yesterday I spent a lot of time considering the situation of this week's nominees in respect to Vanessa's game position as I had just written about her pushing ahead to the end with her alliance consisting of a showmance and twin sisters. Not a great move, I'd argue. Could keeping James Huling around be what she needs to correct the crash course she's on?
James and Meg are up on the Block with one guaranteed to head to Jury unless they can pull off a Veto win, but maybe someone else would save them. Or at least maybe someone should save James. Here's why I think Vanessa needs James to stay.
Vanessa knows, or at least she should know, that Austin won't be betray Liz and likely not Julia by extension. Liz won't betray Julia and probably not Austin to help Vanessa. Julia will not betray Liz, but I think she would go against Austin in a F3 with Vanessa over him. Those aren't good odds for Vanessa especially when her entire game could rest of Julia winning something.
This week Vanessa decided to win HoH and promise the Austwins complete safety and no visits to the Block instead of letting JMac take it after he already told her he'd be ready to make a big move. That big move could have been going after the Austwins.
Now with Vanessa promising to keep Austwins out of danger this week she kicks the can one round farther down the road. Realistically it wasn't just the promise she made but the game she's playing. She can't be the one to pull the trigger on them. So if she can't do it this week then she won't do it until it comes down to either her or one of them walking out the door. That means she needs someone else to win HoH and do the dirty work.
Who is left that could do that for Vanessa? Right now she's got JMac and Steve. Steve has suggested he'd be willing to make a big move, but I'm going to agree with John that John is the one who would be willing to do it sooner. Would anyone be surprised if Steve won HoH next week, panicked, and then put up Meg with JMac?
That leaves John as a near sure shot to get the Austwins targeted next week. John vs the Austwins. Not terrible odds if you cancel out Julia, though she's bound to eventually trip and fall in to a victory at some point. Of course that logic would cancel out Meg too, assuming she survives over James. That would keep it at 1 (JMac) vs 2 (Liztin) is still a tough gamble. But guess how Vanessa could make that 2:2? Yep, by keeping James.
Vanessa needs James for more than just targeting the Austwins though. Say Vanessa's plan fails and an Austwin wins HoH next week. Would they target Meg? No, they'd go after JMac, Vanessa's best chance of breaking up the Austwins. Now what if James was still there? James and JMac would go up then Vanessa could work to sway votes to keep JMac over James and try again next week to get John in the HoH room. It's an extra round to try and make the Austwins split happen.