Vanessa is back in power and Johnny Mac is back in the Big Brother 17 house, and since Vanessa is no where near ready to make a move on Austwins, it's like last week all over again. Or is it?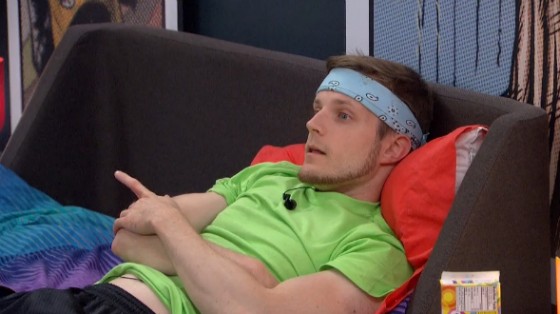 Wait a minute. Maybe Johnny Mac won't be the target this week. At least not initially. Read on to find out what kind of plan Vanessa has for the week.
Big Brother 17 Live Feed Highlights – Thursday, August 27, 2015:
7:13 PM BBT – Feeds return from the HoH comp that lasted less than 15 mins. Vanessa is new HoH.

7:15 PM BBT – Austwins freaking out that John is coming after them and Liz suggests he has no reason to do that.

7:35 PM BBT – Austin very worked up & says John was declaring war on them. He compares John to a WWII dive bomber.

7:40 PM BBT – Vanessa promises Austin and twins safety this week and no Block.

7:52 PM BBT – John celebrates with Steve. Steve says they're in a good spot this week.

7:55 PM BBT – Steve camtalks to tell us that he'd cut Vanessa at F3 and take John to F2 if he has the chance.

8:25 PM BBT – Vanessa goes to John privately. Asks if he dropped and wonders why he didn't accept her deal. John says he couldn't accept it publicly to hide them working together. Vanessa promises John he's safe this week. John tells her the audience loved that they're working together.

8:30 PM BBT – Liz pushes to get JMac targeted and evicted this week. Vanessa shuts that down saying she'll do what's best for her own game and that might not be what's best for her game.

8:35 PM BBT – Austin continues to say John is going to cause him physical harm with a gun. Says John "had a loaded gun aimed at my head." He's been doing this for days.

8:40 PM BBT – John and Austin hug it out. Austin asks if they can reset the week. John says yes and it was nothing personal, just game.

8:45 PM BBT – Vanessa says everyone but James and Meg congratulated her on HoH win. She's building her reasons to nominate. (Readers pointed out that Meg definitely hugged Vanessa.)

8:50 PM BBT – Vanessa suggests she needs to nominate James and Meg together so they can't save each other. She tells Austwins about Goblins talking with her this morning about flipping the vote. Another reason that she's building in her case against them.

9:05 PM BBT – Vanessa realizes she promised James weeks ago that the next time she won HoH then she wouldn't nominate him and one other HG. She decides to lie and say she made a deal with Steve just before the comp that supersedes the actual deal she did make.

9:09 PM BBT – Julia reminds Vanessa that James doesn't stick to his deals so it's OK.

9:12 PM BBT – Austin thinks they're famous now. Vanessa sets them straight that they are not.

9:30 PM BBT – Vanessa tells the twins that James was definitely coming for them. They're on board to target James and Meg.

9:32 PM BBT – Meanwhile, Meg and James think there's no reason Vanessa would be after them. Even if John wins veto, they say Steve goes.

10:00 PM BBT – Julia and Liz say Austin is bringing their game down. They wish it was just the two of them.

10:05 PM BBT – Austin and Vanessa are talking about getting to the end. Vanessa tells him he has always been her final 2 and that she's been defending him to people since week two. Austin wonders what people would think if he scumbags Liz for Vanessa.

10:25 PM BBT – Austin and Liz scold Julia for saying too much to Vanessa.

10:30 PM BBT – And the catty twins are done with James and Meg and are making fun of how they're going to react to being on the block this week.

11:00 PM BBT – Vanessa gets her HOH room. She gets a new beanie (RIP green beanie?) and a letter from her girlfriend.

11:16 PM BBT – James asks Meg if she thinks one of them will go up. They seem to think John will be the target.

11:30 PM BBT – And now it's time for Vanessa, like always, to start her big hunt for reasons to target Meg and James. Vanessa wants to make a deal with John that if she doesn't put him up he will go after which one of Meg and James is left next week (that double eviction though).

11:34 PM BBT – James and Meg are starting to sweat. They wonder if Vanessa will decide this is the week to break up Austwins. Meg says she doesn't think Vanessa would put them up and she doesn't want to bring it up (OK, Meg).

11:42 PM BBT – Vanessa decides she won't warn Meg and James she's nominating them because she doesn't owe them anything.

12:00 AM BBT – Julia and Vanessa agree to take the other to F2 if they make it there and Liz isn't still in the game.

12:10 AM BBT – Vanessa talks with James and Meg about getting info and making deals. It's not terribly productive for her goals.

12:35 AM BBT – Vanessa promises Steve F2.

12:45 AM BBT – Steve and Vanessa agree that F6 with JMac would be ideal. They plan how John can calm things down for the Austwins. She promises Steve that John won't go up.

2:45 AM BBT – James and Meg wonder who Vanessa will nominate, but they feel pretty good that it won't be them. They hope Austin will go up as a pawn then they'll flip the vote and send him out instead.
The Goblins are feeling pretty good right now but that won't last much longer with the Nominations Ceremony coming up later today.
You can watch all of these Big Brother events using the archives Flashback, the DVR-like feature of this year's Live Feeds which means it's always live, even when you missed it! Sign-up now to get the free trial to watch it all live & uncensored.
click images to see full-size