Following Friday's daytime nominations the house went to work on plotting and planning for what seemed to be the bigger, next step: Power of Veto. Vanessa was worried and she had good reason.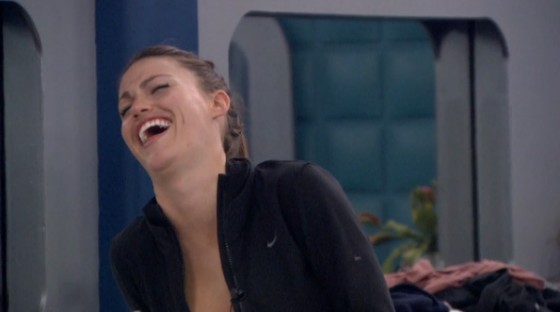 Overnight the Houseguests worked through scenarios as John's game woke up and he started collecting an army. A very small army. John is on to Vanessa and needs help to take her out this week.
Big Brother 17 Live Feed Highlights – Friday, August 7, 2015:
5:00 PM BBT – James concerned about allowing Vanessa and Shelli to both stay, but Meg wants to wait until after Veto before they start worrying on that.

5:20 PM BBT – Austin and Vanessa discuss whether or not Becky is going to hold to their deal. She's very concerned, but he says to keep their cool until they know they what's going to happen with the Veto.

6:30 PM BBT – Steve is trying to figure out what he should do. Wonders if he needs to try and save Vanessa or let her go and align with Becky, JMac, and Shelli. He knows he needs to let Vanessa go, but he really doesn't to lose Vanessa.

8:05 PM BBT – Jackie announces she's done with the knight outfit tonight. That's a day short of the full week assignment.

8:53 PM BBT – Meg, Jackie and James are talking about possible upcoming competitions and how they need to win them all. Talk turns to what people would do with the veto this week. Jackie wants to see Shelli up against Vanessa on the block.

9:14 PM BBT – Austin and Liz talking about Vanessa and Becky. They think Vanessa is the only one from their side that could be backdoored this week.

9:28 PM BBT – Vanessa and Austin are acting cocky about next week. They think they'll be back in power for sure because the other side won't get lucky again.

9:30 PM BBT – Liz says if she gets picked for Veto she will throw the competition.

9:32 PM BBT – Vanessa is still nervous about this week. She asks Austin to promise to let he know if he hears her name come up as a backdoor plan. She doesn't trust Becky.

9:50 PM BBT – Becky tells James and crew that she doesn't want Shelli to remain on the block because she already told her she would come down. Becky says that won't be a good move for her game if this week coming up is a double eviction (it is).

9:57 PM BBT – John tells Becky that Vanessa said she's coming to him with some information tonight.

10:35 PM BBT – HGs gather to play celebrity charades. All game talk dies for now.

11:30 PM BBT – Still playing Charades.

12:00 AM BBT – Jackie is all done with the knight costume. Let the shunning begin.

12:30 AM BBT – Vanessa worries that she might be the target. Austin suggests they'll stick with the agreed DE plan. She wants to win Veto and take down Shelli to force the JMac renom deal.

12:50 AM BBT – John goes to Shelli. Game talk time. John warns Shelli that Vanessa made a deal to get out whichever half of Chelli remained. He goes on to explain how Vanessa has had a hand in most of the evictions. John promises Shelli he'll save her with the Veto. Shelli says it's him, her, and Steve now.

12:55 AM BBT – John tells Shelli that Becky isn't part of their team.

1:10 AM BBT – John shifts to Steve for game talk. He tells him Vanessa has been lying to them. John warns Steve he'll have to save Shelli and Steve will be left on the Block.

1:20 AM BBT – John tells Steve he does not trust Becky.

1:25 AM BBT – Vanessa heard from Julia that Steve and John were talking. She's freaking out and goes to wake up Shelli. She tells Shelli the twins also have her back.

1:40 AM BBT – John and Steve are back to talking. John warns Steve to not let on that they know there is a plan against Vanessa or he (John) could end up out this week.

1:45 AM BBT – John tells Steve he trusts Becky.

1:50 AM BBT – John tells Steve it's them and Shelli for an alliance.

2:01 AM BBT – "Steve, there are 5 gray pics out there. I'm number 6." John knows the pattern is Vanessa picks a fight with a HG and then they're gone. It just happened to him so he knows he's next.

2:05 AM BBT – John asks Steve to pick him for Veto even though he'd use it on Shelli if he won. John says he'd throw it to Steve or Shelli knowing he's safe at that point, but he wants the blood of Vanessa's renom on his hands.

2:15 AM BBT – Steve says he thought he was good with Vanessa. John points out everyone is good with Vanessa. Steve understands. Steve realizes Vanessa really is nervous is she's telling both him and Shelli to pick her for Veto and she'd use it on each of them.

2:40 AM BBT – Alone, Steve tells us he doesn't know what to do. His two allies (John & Vanessa) are at odds.

2:45 AM BBT – Steve is in the Lounge. Says he doesn't know if he should tell John about the other alliances he's formed with Vanessa. Steve says he wants his mom for help. He announces he'll pick John for Veto if he gets the HG Choice chip and, he'll throw the comp. Yikes.
A calm day turned in to a busy night of game talk as John stepped up knowing his game was fully on the line this week. He isn't the only one though and Vanessa will be out for blood. His blood. Oh Saturday is going to be a good one. Veto players picked early in the day followed by PoV competition around midday. Get ready!
You can watch all of these Big Brother events using the archives Flashback, the DVR-like feature of this year's Live Feeds which means it's always live, even when you missed it! Sign-up now to get the free trial to watch it all live & uncensored.
click images to see full-size