The veto ceremony came and went in the Big Brother 17 house and everything went as expected and there were no fireworks to follow. And if the rest of the week goes as it has been going, we won't be surprised at the person going home.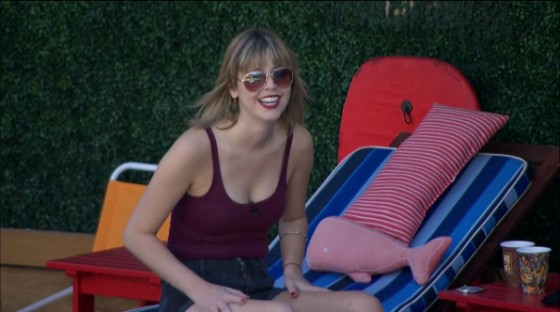 But it's still early and maybe there's a chance the target will shift from Meg to Julia before then. It definitely makes more sense to break up a trio, but this season's players haven't made the most logical moves.
Big Brother 17 Live Feed Highlights – Monday, August 31, 2015:
9:45 AM BBT – HGs starting to get up as the lights come on.

10:00 AM BBT – James is upstairs talking with Vanessa. She tells him she thought a lot about the offer from him and Meg, but she has to stick with the plan and target Meg for eviction. Vanessa is trying to ease this through to keep James calm with her ahead of next week's comps.

10:15 AM BBT – Vanessa tells James she's at the bottom of the totem pole with the Austwins and needs a #2. In their extended talk Vanessa again suggests the game is harder for her being gay.

10:40 AM BBT – Vanessa explains to Meg that she has to finish the job and break up the power couple of Meg and James.

11:00 AM BBT – Meg is back downstairs after her talk. She's crying in the HN room while James sits with her trying to encourage her.

11:45 AM BBT – Feeds return from the Veto comp where Julia was renom'd. Julia tells Liz she's worried and won't forgive Vanessa if she gets evicted.

11:50 AM BBT – James is comforting Meg in the HN room. Meg is upset that she played nice with Vanessa for the past few days for nothing. James tells her she doesn't have to be nice to her anymore but anything can happen. Meg says there's no way Steve and John will send Julia home.

12:20 PM BBT – Meg is annoyed with Vanessa saying they'd be friends outside the game. Meg says no, she's nothing like her friends. Meg said she's done being nice and tells James he's going to have to hold her back.

12:25 PM BBT – Meg tells James that Vanessa wants her out so she can work with him. James says he's not interested in working with Vanessa and will put her up if he wins HOH.

12:36 PM BBT – Vanessa says James won't fight for Meg to stay because it's better for him if Meg goes.

1:04 PM BBT – James feels confident that Austwins would go for Johnny Mac over him.

1:05 PM BBT Julia knows FOR A FACT that Audrey was America's player.

2:15 PM BBT – HGs are hanging out. No game talk going on.

2:35 PM BBT – John and Vanessa are talking in HOH room. John tells her he thinks they're in a good position (huh?). John says he needs to make some people mad so that it doesn't look like he's sitting pretty with the entire jury. Vanessa says she has the opposite problem and mentions how much Shelli seemed to hate her when she was back for the jury competition. They start talking about who should go soon between Austin and the twins (how about getting Julia out this week??). John tells Vanessa he would break any of his deals except for the one with Vanessa, so he's good with any of them going.

2:55 PM BBT – Vanessa prefers Liz going before Julia (of course she does because she has a final 2 deal with Julia).

3:05 PM BBT – Vanessa and John still chatting. She thinks they should take out Austin or James in the double eviction, which no one is aware is this week.

3:20 PM BBT – John and Vanessa have gone from game talk to real talk about teeth and relationships.
As of now, Meg is heading to jury. Let that sink in. The girl they all call grandma is being targeted over Big Brother super fans, a showmance AND a set of twins.
You can watch all of these Big Brother events using the archives Flashback, the DVR-like feature of this year's Live Feeds which means it's always live, even when you missed it! Sign-up now to get the free trial to watch it all live & uncensored.
click images to see full-size