Overnight Vanessa made more moves to build deals and insulate herself from going on the Block next week, but now it appears as though most of the house is quietly moving in the opposite direction.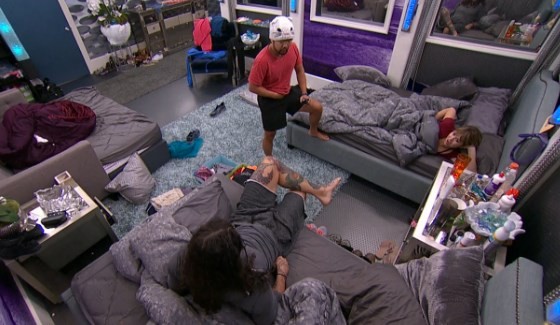 Following a failed attempt to flip the vote to keep Becky Vanessa agreed to the Austwins' plan to hold on to John and move forward but not before setting up another mass deal leaving James and Meg as the target. Once Vanessa left the room, the talk took a different tone.
The Austwins have now taken over as the pivot players in the house and are well situated between Vanessa, Goblins, Steve, and John. Using this position they were able to convince Vanessa that she wasn't in danger of being targeted.
Flashback to 11:20 PM BBT 8/19 last night as Vanessa talked through the benefits of keeping Becky. When that didn't go over as she hoped she suggested bringing John in to the room and making him promise to keep all of them safe if he won. They soon get both John and Steve in there and the talk proceeds with a lot of smiles and nods from John.
Vanessa eventually leaves (11:55 PM BBT) so you can pick up there again as the Austwins talk with John and Steve. Austin is convinced that Vanessa will feel good enough to throw the HoH competition now that she thinks she's safe with everyone. Austin thinks they have this locked down to go after her, but he says they still need to get the HoH win in their hands.
Jump ahead again to 12:10 AM BBT 8/20 as Austin, Liz, and Julia rehearse the version of the story they'll tell James and Meg. Yep, they're playing both sides of course. The Austwins don't want James and Meg to know Steve was in the room because they want to hide their alliance with him.
Moving to this morning, Austin came to James and Meg to let them know Vanessa was trying to make a deal to keep the Austwins and her safe from John's HoH if he won. Flashback to 9:50 AM BBT. Just as they practiced, Austin doesn't mention Steve. He tells the Goblins he talked with John later and told him he could target Vanessa and to ignore that deal.
Once Austin is gone James tells Meg he thinks they could still end up on the Block if John were to win HoH. James is not willing to throw this comp and will be playing hard to get it, he tells Meg.
Then at 10:10 AM BBT John stopped in to talk with James and Meg. John tells James that even Steve is on board with the VTE Vanessa plan. Well, "pretty sure he is," says John after a moment of thinking of it. John says they "need to make sure it's done correctly this time." James agrees but says the plan fell apart last time because Vanessa had a lot of dirt on people.
Considering how little it took to sway James last time to watch Becky's whole plan fall apart, it might not take much to make it happen again. I'm thinking (hoping?) we've got a fun week ahead of us after tonight's eviction and live HoH comp.