The Big Brother 17 live eviction show tonight may be sending how two players, but so far we only know who the first one will be after big shifts in the house have set the target with little chance of a change now.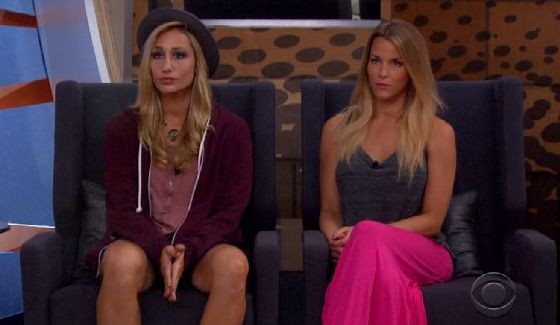 Vanessa Rousso and Shelli Poole currently sit on the Block in the nomination chairs with eight votes up for grabs. Which of these former allies will be sent packing? Let's breakdown the votes.
Initially Vanessa was a lock for eviction this week but a funny thing happened on Monday afternoon. Seeds Vanessa planted in James' mind over Becky's trustworthiness combined with Shelli's antics over a sweater may have changed the tide. That night the Goblins stayed up late debating their vote and had an epiphany: Shelli has got to go!
Yes it was all downhill from there for Shelli's game and Becky's plan. The Goblins conferred with Austin and realized they could pull together at least five votes to keep the choice from Becky who adamantly wanted Vanessa gone.
Now deals have been made and the Goblins feel secure in trusting Vanessa and her "word" long with believing the Austwins aren't really with Vanessa. They'll combine votes tonight along with Steve's to keep Vanessa in the house and the 5-HG alliance alive and well as the Goblins tagalong for the ride.
As for the second round of the Double Eviction? That'll be interesting and we're predicting Johnny Mac to be the most in-danger HG with Becky as the alternative. Of course a lot can happen with nine Houseguests playing for HoH then six more playing for Veto. Maybe we'll get a surprise with the second eviction of the night.
Update: I've made a spreadsheet of scenarios for the Double Eviction & shared it here on Twitter. I have 4 scenarios for John evicted, 4 scenarios for Becky evicted, & 1 situation where Vanessa could go if John noms Van against an Austwin.
Big Brother 17 Week 7 Eviction Predictions – Shelli Poole or Vanessa Rousso?:

Who do you think will be evicted tonight on Big Brother? Share your thoughts below.