The Double Eviction is coming up tonight on Big Brother 17 and the Houseguests have been busily preparing for scenarios even though they don't know for sure it's about to happen.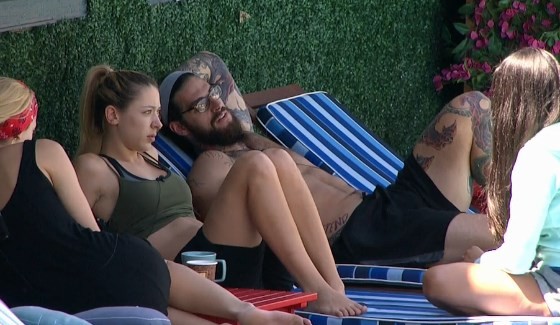 DE's are fun in part because we don't have time to plan out what we expect to see happen. There's no usual week of discussions and debates either by us or the HGs. Instead they'll race through quick comps and fast decisions. Listening in on the HGs we know some of the choices they'll be making.
Yesterday on the Big Brother 17 Feeds we watched as the Austwins sat down with Jackie and later Meg to run through some Double Eviction plans. Along the way Austin revealed his true intentions, but that may have passed right over his makeshift allies.
Flashback to 1:31PM BBT 8/12 to follow their discussion. The Austwins say they would put up JMac and Becky, but promise to keep Becky safe. Jackie has said keeping Becky safe is a big deal for her after they left her out to dry this week over them backing out on their initial support with Vanessa.
The twins don't hold back that Vanessa is definitely after Becky. Later Liz told Meg that Vanessa "wants Becky's head on a silver platter."
Jackie says the Goblins' plan would be to nominate Vanessa and JMac with Vanessa as their target. She starts to ask them how they'd vote in that situation then backs off. I would have really been interested in hearing a talk on that.
Here's where Austin tips his hand. 1:36PM BBT. Austin tells Jackie that going after Vanessa in the DE might not be such a great idea for everyone. Well it's definitely not what he wants, is it? What's the reason, according to Austin? Because JMac and Steve are still in the game. Steve. Steve is Austin's secret ally.
JMac is definitely a target of Austin and the twins, but Steve is not Austin's target. This is how you know Austin is keeping his own best interests over this new alignment with the Goblins, as he should. He just told Jackie two quick lies mixed in with guiding the groups' plans which push his own agenda over the collective's.
Bonus Austin reveal tangent: In an overnight talk between Austin and Meg (1:27AM BBT), Austin tells Meg that after Vanessa gets out Becky then she'll be coming for the Goblins. Meg doesn't bother mentioning this to the other Goblins. You could whack these HGs with a stick and they might not notice.
I do believe Austin is interested in working with the Goblins for the immediate future. He told Liz yesterday that he wants to make sure they hold this 6-person deal together through DE. If Vanessa falls out along the way then I'd expect their group to continue longer, but as Austin has demonstrated, his deeper allegiance lays with Vanessa.