Tonight on Big Brother 16 we'll find out who came back from Jury to continue their fight to win the half-million dollar prize and crown as the winner of Big Brother!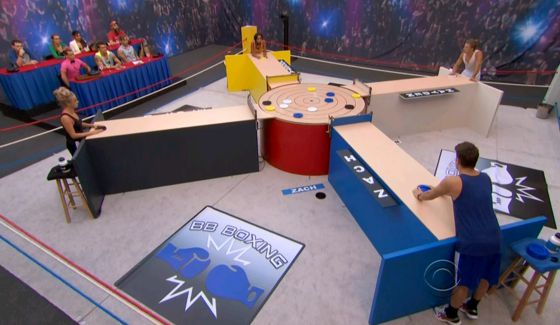 We've already see three of the four spots in tonight's Jury competition with Jocasta Odom, Hayden Voss, and Nicole Franzel previously evicted from the house. During tonight's show we expect to see Zach Rance join their ranks and battle it out.
So who will win their way back in for a second chance? The competition looks to pit all four players against one another instead of a jumbo-sized endurance competition like in last season of Big Brother.
In past weeks Nicole proved to be a very strong HoH competitor with several wins while Hayden has one Veto and one near-win HoH as well. Jocasta has won a BotB herself. Zach has had his own wins but will the adrenaline from his recent eviction give him the edge?
Yes! Zach was evicted and is now part of the Jury and will compete in tonight's challenge. One of them will get back in the game. Let's find out who!
Big Brother 16: Who Came Back From Jury? – Results:
Round 1: Everyone got a disc on
Round 2: Everyone got a disc again
Round 3: Nicole lost a disc
Round 4: Only Jocasta got a disc on
Round 5: Everyone got a disc. Jocasta leads.
Round 6: Nicole, Zach, & Jocasta tied for 1st.
Round 7: Nicole wins!
Nicole won her way back in to the game
What a crazy competition. It could have really gone to anyone at all. Jocasta lead up till near the end and almost won it!
It was a very, very close comp and came down to the final round of seven attempts. Zach and Jocasta were tied with Nicole going in to the last round, but Nicole prevailed.
Share your thoughts and check back soon for the live Big Brother spoilers!
click images to see full-size view