The Power of Veto has been used every week on Big Brother 16 and that's rather uncommon. Most seasons we see it dropped in to the block and the lid slammed shut without the opportunity for drama to follow. That has not been a problem this season and I love it. Now we're looking at another potential run at some PoV fun.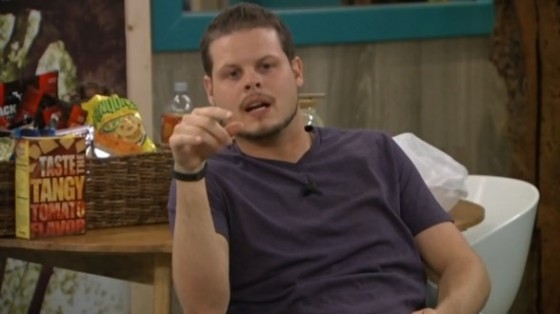 The Veto competition will be held later today and we already know who the first three players will be. Before too long the HGs will get their wake-up call and three more players will be added to the mix, but will any of them really want the responsibility that comes with the win?
Nicole is the surviving HoH so she'll play along with her nominees Zach and Jocasta. Zach feels safe on the block, but he really should not. We'll have wait and see if he gets the fire under his feet to compete today or not. Maybe DR will give him a nudge in that direction.
Last night on the Live Feeds, Flashback to 9:50PM BBT 8/1 Cams 3/4 (Free Trial), Derrick, Cody, and Nicole ran through some alternatives to Zach's eviction. Most notably, Frankie getting backdoor'd this week.
Nicole says she's interested in the idea of sending Frankie out the door and everyone there agrees with it too. Her concern though is that it'd need to be Jocasta coming down off the block so they could have Zach and Frankie on the block together. For one, they worry Zach would campaign to save Frankie, and another concern for Nicole is that if Zach comes down and Frankie survives eviction then she's got two capable enemies coming after her.
Their dream scenario for the Frankie backdoor plan would be Donny being selected to play, win the Veto, and then save Jocasta. This would give Nicole the least obvious involvement in the BD Frankie plan and is a sign that these players would love to see Frankie go but don't want to be too apparently involved in the process.
We'll have to wait and see how this all plays out today on the Live Feeds. Veto players soon with competition results later in the afternoon. Join us on Facebook, Twitter, and Email updates to get all the news sent to you when it's revealed.
Update: The Veto players have been picked. Caleb, Christine, and Victoria will join Nicole, Jocasta, and Zach in the competition. Frankie will host the comp.
This line-up leaves open the chance to Backdoor Frankie if Nicole goes that route.