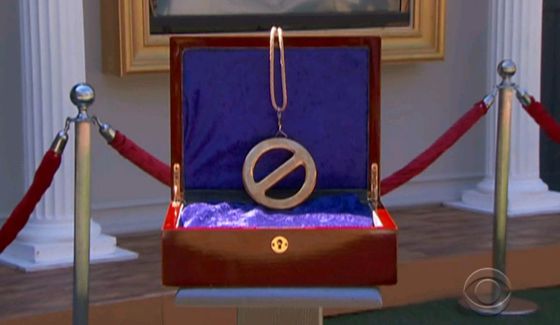 The Big Brother 16 Power of Veto competition is over and we have some surprising results! The Feeds returned and HGs were immediately scrambling to figure out what could happen with Thursday's eviction and the impact on their plans.
Be sure to join us on Facebook and Twitter so you never miss another Live Feed spoiler.
Read on to find out who won and what that could mean for the game this week.
Big Brother 16 Spoilers: Week 4 Veto Competition Results:
Victoria won the Power of Veto!
Zach won a trip to Germany
Nicole got a unitard punishment
Caleb won $5K
Brittany has to kick a ball in a goal 2400 times in 24 hours
Cody has to kick himself in the butt 10x when a whistle blows
We've learned that Caleb may have won the competition, but opt'd to take the cash prize and left Victoria with the Veto. So she won the power, but not the comp. That choice has upset the other guys.
When the Feeds returned Zach was worked up in the HoH room. He is convinced this will change everything. Frankie was already telling him that he doesn't want to see Caleb renom'd and voted out or it'll be them next. I'm not sure why Frankie is protecting Caleb. I think it'd be a very smart move for Cody to do that.
Playing in the comp today was Cody as HoH and Brittany and Victoria as the nominees. They were joined by Nicole, Zach, and Caleb. Caleb was there because Brittany picked him. She didn't pick Amber like the two of them planned all morning but rather the HG who told her he wouldn't save her if he won it. Makes my head hurt.
What do you think of the PoV Comp results? What will happen at the ceremony? The Veto Ceremony will be coming up on Monday and we'll post spoilers when they happen.
Turn on your Live Feeds and enjoy the drama. Watch it all now live & uncensored.