Tonight on Big Brother 16 the spoiler results for the special eviction episode will be revealed as the Final Five HGs face a surprise elimination before holding the next Head of Household competition.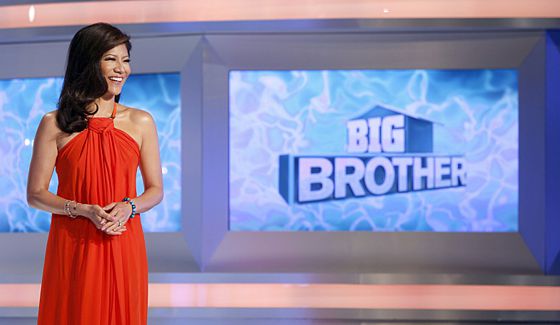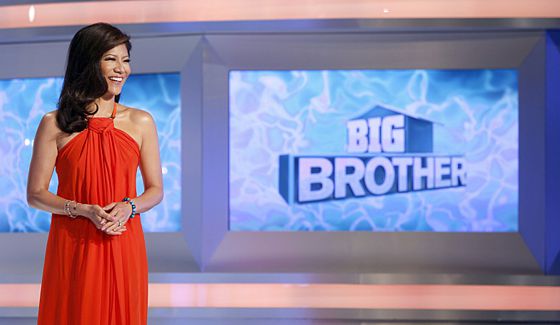 Julie Chen hosts Big Brother 16 – Source: CBS[/caption]
The Houseguests didn't know what was going on Monday when they were woken up early and told to prepare for an important day. Their hopes of a visitor didn't come true as it was actually quite the opposite and one of them was sent to Jury. Now we'll get confirmation of who that was.
Once the Final Four is revealed they'll have a HoH comp to decide who wins a seat at the F3 which sets us up for Wednesday's live eviction. It's a big night and an even bigger week of Big Brother!
Join us tonight here for a live recap and discussion of the latest Big Brother show plus you can find us on Facebook and Twitter for even more updates as the game plays out in real-time on the Feeds.
Okay, so the Feed leaks earlier today revealed all of tonight's results! But we're still here to see what officially happens.
Julie Chen announces Team America is over but there's one last task and this one is an individual mission. If one of them wins BB16 then he will earn a bonus of $50,000!
Big Brother 16 Week 12 Power of Veto – Rewound 'BB Freakshow':
Cody sets a time of 2m21 secs
Caleb can't beat the time & it ends
Victoria can't be the time either
Frankie doesn't make the countdown either
Derrick almost, almost has it, but nope.
Cody wins the Power of Veto! An impressive win and puts Frankie in a dangerous spot.
Big Brother 16 Week 12 Power of Veto Ceremony:
Cody does not use the Veto. Frankie & Vic stay on the block.
CBS just announced that you can audition for Big Brother 17! Hooray! Apply now!
Big Brother 16 Week 12 Eviction Votes:
Cody votes to evict: Frankie
Derrick votes to evict: Frankie
Frankie has been evicted 2-0 over Victoria.
Big Brother 16 Week 12.5 Head of Household Comp – "Before or After":
Round 1: Before – all get a point
Round 2: After – all get a point
Round 3: Before – Victoria & Cody get a point
Round 4: Before – all get a point
Round 5: After – Cody & Derrick get a point – Cody leads
Round 6: Before – Cody & Derrick get a point – Vic can't win
Round 7: After – Derrick gets a point – Tie!
Tiebreaker – 462 secs, Derrick guessed 420 – Derrick wins
Congrats to Derrick. He is the new HoH! This also secures him a spot in the F3.
Wednesday's live eviction will get us down to the F3 and then the Final HoH comp starts on Friday's episode, so yeah that will be an important one for sure. Season finale is 9/24 @ 9:30PM ET.
Jump on your Live Feeds NOW & watch to find out what happens next! When the Feeds return we'll find out who was nominated and who won Veto which is very important and decides the F3. Tomorrow I'll have our interview with tonight's evicted HG to share as well.
Don't stray too far because we'll have a LOT more Big Brother updates very soon. This is the game that never rests and neither does our coverage!