Tonight on Big Brother 16 the spoiler results for this week's Rewind eviction voting and Head of Household competition will be revealed as two HGs face possible elimination before the latest twist hits and sends the F5 back to the starting line. It's a special night and 8PM ET time for this week's live show.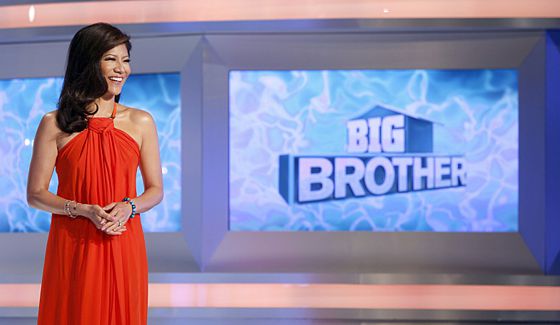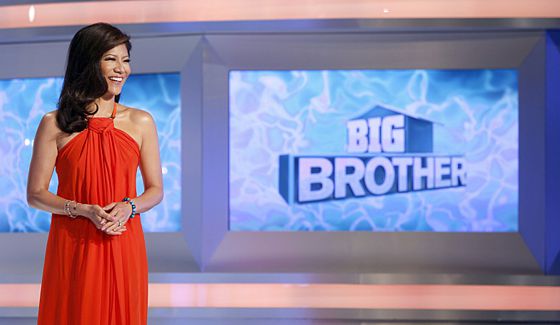 HGs think someone could still get voted out tonight, but unless we get an insanely fast rush of DE-styled comps it's more likely there just won't be an eviction this week. That means we'll get the F5 to stay for another round and it'll start off with a new Head of Household competition.
Join us tonight here for a live recap and discussion of the latest Big Brother show plus you can find us on Facebook and Twitter for even more updates as the game plays out in real-time on the Feeds.
Julie opens the show mentioning the Rewind events for tonight and does not say anything about the eviction, so I think we won't see anyone going home tonight.
The show is running through clips of the HGs sweating the button. We get a mix of DRs including one of Derrick saying he is hoping Victoria is the one going to Jury this week and that she goes there happy with him so he'll stick close to her and be her friend.
Ahh, finally. Jury House footage. HGs celebrating Zach's bday and they got him a new pink hat. There is much rejoicing. Now we're building up to them seeing Christine walk in the door behind Nicole.
Donny is NOT holding back and giving Christine some serious Zings. Hayden asks Christine if she has a thing for dinosaurs now. Donny asks if she has a lawyer. Ouch! Jurors cheer when Christine says she was loudly boo'd when she step out the front door.
Now it's time for the live voting with only 3 minutes left on the Rewind countdown timer. Julie asks the nominees to give their plea speeches. Let's see how far this goes…
Julie says it's time to vote. Derrick is first but can't get in the DR door. The countdown hits zero, a siren goes off, and the lights start flashing. There will be no vote. Julie leaves them without saying what happens next.
Big Brother 16 Week 11 Votes:
Caleb votes to evict: …
Derrick votes to evict: …
No voting tonight. Julie tells the HGs to hold tight and she'll get back to them with more details.
Julie tells the HGs about the Rewind. They'll go back to the start of the HoH comp and do the whole week over, but here's the kicker: it's all the SAME competitions again. Gee, I wonder how it'll turn out. Oh and Cody has to wear his dino suit again.
Big Brother 16 Week 12 Head of Household Comp – "Seed Saw":
click images to see full-size view
We'll keep watching for confirmation of the winner or maybe even the comp itself if they show it on the Live Feeds.
Julie also confirms the Veto comp will be the same "Freak Show" comp again, but I don't know if it'll be the same comp theme or even the same six "freaks."
Upcoming episodes include Sunday @ 8PM ET/PT, a special eviction show on Tuesday @ 8PM ET/PT, ANOTHER eviction show live on Wednesday @ 8PM ET/PT, & yet another show on Friday at 8PM. Wow!
Jump on your Live Feeds NOW or get the Free Trial & watch to find out what happens next!
Don't stray too far because we'll have a LOT more Big Brother updates very soon. Depending on how the adjusted schedule runs, we should have the nomination results tomorrow so watch for those spoilers. This is the game that never rests and neither does our coverage!