The Big Brother nomination chairs will be filled by Cody Calafiore and Victoria Rafaeli tonight for the live show, but who will be sent home? My prediction: neither.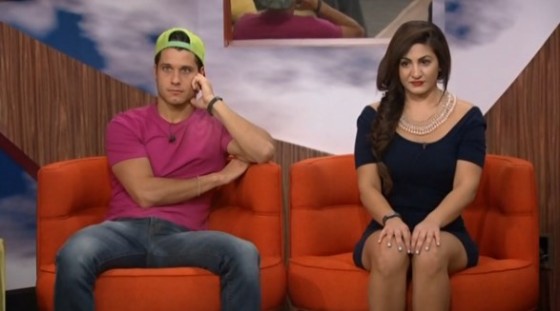 We've been discussing this since the Big Brother Rewind button was revealed and trying to make sense of what is going to happen. I've put this out there already today, but just to make it very clear, I do not think either nominee will be sent out to meet with Julie. Nor do I see any of the other three remaining HGs being evicted tonight.
The countdown timer hits at 8:35PM ET which times up nicely with the normal voting time in the live shows. Then you've got Dan Gheesling arriving to do an on-stage interview with Julie which could perfectly fit in the space normally held by the evicted HG interview.
Originally I speculated we'd get a Double Eviction style show with all the comps of the week redone right there in the hour, but if they're not starting the twist until 25 minutes left to go there's just no way. Instead we'll get a normal live show just without the eviction part of it. The HoH competition will be held again just like it was last Thursday night when Caleb, Cody, Frankie, and Victoria faced off for the big power.
So Cody and Victoria fans can stand down. I expect you'll have another week to enjoy both of them in the Big Brother house, but just in case I'm wrong (it happens… frequently) be sure to join us tonight at 8PM ET (7PM CT) as we live recap the show.
The president's address won't air until 9PM ET so no overlap to worry about there either.