We're about to have confirmed what we all suspect when it comes to the first Big Brother 16 eviction of the season. Paola Shea and Joey Van Pelt are on the chopping block but only one will leave during tonight's live show.
There hasn't been much campaigning from Paola in the past few days as Joey has been doing it for her. Time to find out how her efforts in revealing Team America and bringing in her alter ego "Alex" worked out.
Speaking of Team America, the next Houseguest member of our alliance should be revealed. Let's hope viewers picked us someone who can last a bit longer and make it to the next round so we can see some hi-jinks in play.
Once we get through that reveal and the live vote, the Houseguests will head out to the backyard and compete to become one of the two new Heads of Household!
Make sure you've got your Live Feeds ready to go (start your Free Trial now). When the show is over the Feeds return and if there's any spillover from the HoH competition we may get to watch it play out there.
Things don't look good for Joey as she heads around the house looking for vote support. What they don't show is Joey revealing her role in the Team America twist to Hayden. I guess they want to pretend that didn't happen. Now we get to see Joey dressed up as Alex. As I said, "Alex" was not a Team America task.
Now we're getting Caleb's obsession with Amber. It's brief and just scratches the surface. It goes way, way deeper, but now we're on to the vote. Joey and Paola give their speeches. Now time to vote.
Big Brother 16 Week 1 Votes:
Devin votes to evict: Joey
Derrick votes to evict: Joey
Frankie votes to evict: Joey
Cody votes to evict: Joey
Zach votes to evict: Joey
Brittany votes to evict: Joey
Nicole votes to evict: Joey
That's enough votes. Joey is evicted.
Christine votes to evict: Joey
Victoria votes to evict: Joey
Jocasta votes to evict: Joey
Hayden votes to evict: Joey
Amber votes to evict: Joey
Donny votes to evict: Joey
By a vote of 13-0, Joey Van Pelt has been evicted from Big Brother.
Lots of hugs all around as Joey heads out the front door. She doesn't mention anything about Team America as some wondered if she might do.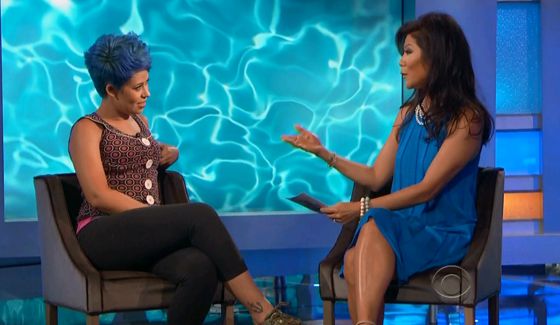 Out in front of the house Joey learns about the Bomb Squad in Caleb's goodbye message. Joey shouts "you're stupid!" That's nice.
We learn there will be 2 Team America members voted in this week with the extra as a Joey-replacement.
Next up is the HoH comp and it's going to be split up by sex. Men and Women competing separately so there will be a balance on HoHs.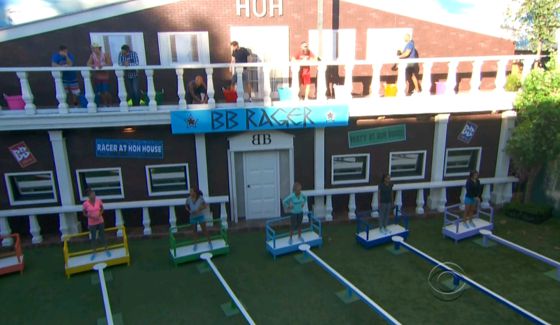 Head of Household – Comp 1 featuring the women:
Women are up first and must transfer kegs across a balance beam. If they fall off they are out.
Amber is leading with four kegs. Christine not far behind. Brittany drops a keg and she's out.
Now Amber is running back and YES! Amber is the first female HoH!
Head of Household – Comp 2 featuring the men:
Now the guys are off! Hayden is running fast. Derrick already fell and is out.
Hayden is tearing it up fast! This is Hayden's to lose. Oh no! Hayden fell and is out. Cody wins!
Cody is the second HoH of the night. Congrats to both.
No wait, Julie says they have to review the tapes as there may have been a foul. Did Cody do something wrong?
Yep, Cody hit the ground at the very last minute. You know who that makes HoH? Devin. Oh my…
Team America:
Donny is the next member, or really the first member now that Joey is gone. Hooray!
Now we will pick two more people thanks to Joey's flop and fail. Vote for 2 more members. Official poll closes July 5th at 11:59PM ET.
Join us on Facebook, Twitter, and get our Email updates for more Big Brother.