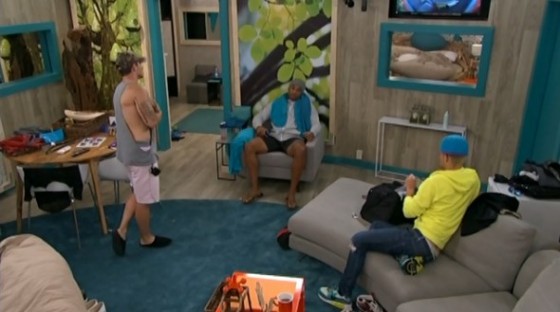 Happy Big Brother 16 Eviction Day! Normally on this day we get to see the houseguests scrambling for votes, but today we just got a lot more of Devin's meltdown. Speaking of Devin's meltdown, it might be the fastest in Big Brother history. Today he spent the day trying to defend his actions from the night before, but it seems like only Caleb still has his back, and even that is now questionable.
Find out what else happened on the Big Brother Feeds so far today in the house.
Big Brother 16 Live Feed Highlights – Thursday, July 3, 2014:
9:15 AM BBT – A lot of fish. Several different wake-up calls, perhaps.

9:30 AM BBT – HGs are starting to get up and move about.

9:50 AM BBT – Devin tells Donny about the house meeting from the night before. Devin says his friendship with Donny is more important than the prize money. Donny, as usual, is being too kind.

10:00 AM BBT – Feeds are out. This might actually be the wake-up call.

10:22 AM BBT – Feeds are back. Girls are in the kitchen getting ready. Some of the others are eating breakfast.

10:42 AM BBT – Devin is again saying he doesn't care about the game or the alliance. Frankie tells him he respects him and his decision to rethink the way he's playing the game. He keeps going back and forth on how he's feeling about the game and even threatens to expose the Bomb Squad.

10:50 AM BBT – Derrick is telling Devin that not everyone responded well to the house meeting. Devin continues to act crazy and says he doesn't care.

10:59 AM BBT – Even Donny thinks Devin was weird last night.

11:00 AM BBT – Devin continues to talk about what happened. Caleb and Frankie tell him he has their full support. Caleb says he trusts him and would still like to be at the end with him and Frankie.

11:05 AM BBT – Now Devin is talking about rehab and losing a friend her met in rehab to an overdose. He tells Frankie he reminds him of HER.

11:25 AM BBT – Feeds down. Looks like it's Live Show preparation time.
So Joey is going home tonight, that you can count on. And if Devin doesn't win HOH tonight, he might end up nominated next, according to all that has gone on on the Big Brother 16 Live Feeds.
You can watch all of these Big Brother 16 events using the archives flashback, the DVR-like feature of this year's Live Feeds which means it's always live, even when you missed it! Sign-up now to get the free trial to watch it all live & uncensored.
click images to see full-size