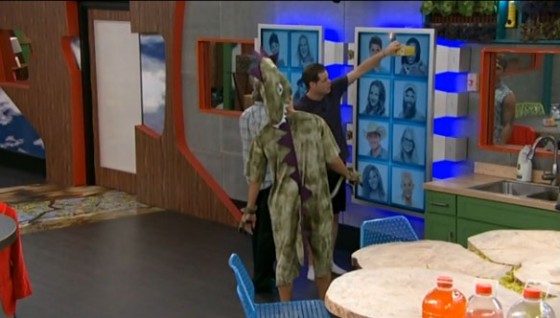 Big Brother 16 is officially rewound and we've got a busy week ahead of us as do the HGs. Wednesday night was spent adjusting to the new Head of Household and talk about whether or not the week would play out the same or quite differently. Find out what else happened on the Big Brother Feeds in the house yesterday.
Big Brother 16 Live Feed Highlights – Wednesday, September 10, 2014:
6:36 PM BBT – Feeds return after live show. Caleb won Head of Household. Cody is back in his dinosaur costume.

7:02 PM BBT Frankie jokingly wonders if Jeff and Jordan will get engaged again since they're doing the week all over again.

7:10 PM BBT – Derrick and Caleb are talking about putting Frankie on the block. Frankie interrupts the conversation.

7:20 PM BBT – Caleb talks to Cody about Derrick going up instead of Frankie just because he's never been up.

7:45 PM BBT – Derrick is nervous. He tells Cody they have to get Caleb to nominate Frankie.

8:00 PM BBT – Derrick tells Victoria that Caleb will probably put them up together instead of her and Cody or her and Frankie.

8:36 PM BBT – Derrick studies the memory wall since they know the veto will be another morph competition.

8:48 PM BBT – Derrick tells Caleb Frankie has to go up outright because if he uses the veto on Victoria than Cody or Derrick will go home. Derrick tells Caleb he knows he can beat Frankie in the veto this time.

8:56 PM BBT – Everyone agrees that Frankie needs to go up (as of now).

9:02 PM BBT – Derrick tells Victoria not to worry because he's going to win the veto.

10:41 PM BBT – Frankie says he's getting plastic surgery to fix his ears when he gets out (and presumably after he builds schools in Africa).

11:08 PM BBT – Caleb gets his HOH room.

11:10 PM BBT – HGs head up to see Caleb's room. Caleb's reads his letter. It's from his dad and stepmom.

11:33 PM BBT – Frankie and Cody talking about beating Frankie this week. Cody says he's been trying to get him out for weeks now and this is the perfect chance.

11:35 PM BBT – Victoria and Derrick talking about how great it is that the others think she hates Derrick. She says she wasn't meant to go home and that's why the rewind button was pushed.

11:40 PM BBT – Frankie tells Cody and Derrick to let him know if Caleb thinks about backdooring him again.

1:00 AM BBT – Derrick and Frankie talking. Frankie says he thinks they're good but to let him know if Caleb hints at anything weird.

1:05 AM BBT – Derrick promises Frankie that regardless of who goes up they'll all be fine. (Derrick is lying to him.)

1:10 AM BBT – Derrick tells Frankie he thinks he (Frankie) would win over everyone, but he won't tell anyone else that.

1:50 AM BBT – Caleb and Derrick going over the plan again. Derrick reiterates that if Frankie doesn't go up then he could use the Veto on Victoria to force the eviction of either Derrick or Cody.

3:40 AM BBT – Caleb talking with Cody, Frankie, and Derrick. He tells Cody it'd be too stressful for him (Cody) to go up yet again. Caleb again says Victoria is the target.

3:55 AM BBT – Caleb again tells Derrick that he will nominate Frankie.

4:00 AM BBT – Frankie tells Cody that if he (Frankie) goes up then he'll play even harder to win the Veto.

4:10 AM BBT – Frankie gets to talk with Caleb alone. He's pushing to not go up in case the other guys flip on them. Sounds like Frankie wants Cody up without directly suggesting it.

4:15 AM BBT – Caleb tells Frankie if he goes up and wins the Veto then Derrick would go up as the renom. (This was their plan.)

4:20 AM BBT – Caleb promises Frankie that Cody and Derrick want to go to F4 with both of them.
The person least likely to put Frankie up this week is Caleb. And he's already gone back and forth a bit on it, so don't be surprised if we see a repeat of what already happened this week. But if veto plays out differently things could still go in a completely different  direction.
You can watch all of these Big Brother 16 events using the archives flashback, the DVR-like feature of this year's Live Feeds which means it's always live, even when you missed it! Sign-up now to get the free trial to watch it all live & uncensored.
click images to see full-size