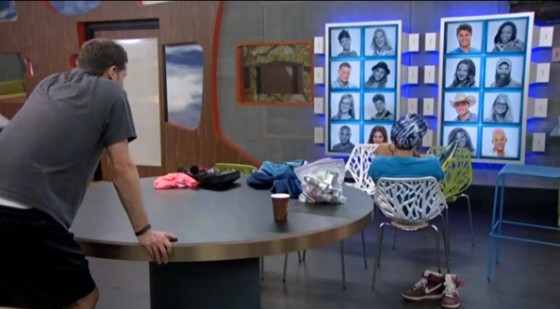 It was actually a pretty exciting day on the Big Brother 16 Live Feeds. We got to see the jury come in and trash the house, hear all about the luxury competition and then watch the slow burn of the fallout of the latest nomination ceremony that did not mirror what happened the first time the HGs played this week.
Find out what else happened on the Big Brother Feeds in the house yesterday.
Big Brother 16 Live Feed Highlights – Thursday, September 11, 2014:
10:30 AM BBT – HGs are all sleeping aside from Victoria. No one sees "Luxury Competition Today" on the TV screen.

10:50 AM BBT – Feeds cut to tell them to look at the TV. They finally see that there is a competition today.

11:00 AM BBT – Because these people can't not speculate they start guessing what the luxury is.

11:36 AM BBT – HGs are now in the second HOH room. They have instructions about the competition and at TV to watch. The TV comes on and the jury members are downstairs trashing the place. Zach, Donny, Jocasta, Nicole, Hayden and Christine are all in there. They're throwing clothes around and Zach pours Froot Loops everywhere.

See pictures of the Jury members running wild in the house.

11:40 AM BBT – Feeds cut for the competition.

1:07 PM BBT – Feeds back. The house has been demolished by the jury members. HGs are made and calling them bitter (even thought they were instructed to tear up the house).

1:14 PM BBT – Victoria found that one of her necklaces was broken in the rampage. She's very upset.

1:25 PM BBT – Victoria won the luxury competition.

1:40 PM BBT – HGs keep saying what the jury did to the house was just too much. Frankie says it was malicious.

2:05 PM BBT – HGs had to split the  luxury comp money with the jury member because the jury member apparently played FOR them. So Victoria got $5,000 and so did Hayden.

3:14 PM BBT – Derrick says they need to stick to Caleb until he makes his noms. They have to make sure he puts up Frankie.

4:13 PM BBT – Feeds cut for the nomination ceremony.

5:15 PM BBT – Feeds return. Caleb nominated Victoria and Frankie.

5:18 PM BBT – Caleb asks Frankie if he hates him. Frankie says he just doesn't understand. Frankie mentions that Derrick has never been nominated. Caleb says if Frankie wins veto, he'll put up Derrick.

5:34 PM BBT – Cody and Derrick meet in private to talk about how they have to win the veto so they can get Frankie out.

8:30 PM BBT – Frankie is being underhandedly nasty to Derrick. Derrick tells Frankie he hasn't been dealt the best hand in life. Frankie says he has lived a privileged life himself. Derrick says even the $50K runner up money would change his life. Derrick trying to make sure Frankie doesn't think he's the mastermind.

9:13 PM BBT – HGs talking about how Hayden was upset when he found out he won the money for Victoria, which in turn upset Victoria because they watched it play out on the TV screen.

9:20 PM BBT – Caleb tells Frankie that he, Cody, and Derrick talked about the possibility of Frankie winning veto and taking Victoria off the block. Frankie gets mad and calls Caleb naive and says he can't believe they're all conspiring against him. Caleb tells Frankie he trusts him and Derrick with his life in the game. Frankie is guilting Caleb and saying he must not because he's on the block.

9:27 PM BBT – Cody and Derrick come out and the talk actually continues. They tell Frankie he wasn't plotting. Cody gets a little irritated with Frankie. Everyone is a little tense and Frankie says he just feels like he's being made a fool of.

9:45 PM BBT – Now Frankie is bringing up his fans, trying to make Caleb worry they'll hate him, no doubt.

10:58 PM BBT – Frankie asks Derrick if they have anything to discuss. Derrick tells him he's being paranoid.

11:22 PM BBT – Derrick is fixing Victoria's necklace but tells the others not to tell her he did it.

11:40 PM BBT – Frankie talking to himself/the cameras. He says Caleb putting him up was a horrific betrayal.

12:15 AM BBT – Derrick tells Victoria he'd take her to Final 2 over Cody.

12:40 AM BBT – HGs are again studying the memory wall for the veto competition.

1:00 AM BBT – Caleb promises Frankie that this nomination was not him taking a shot at Frankie. He says he was trying to be fair by putting Frankie up and he wants him to win the Veto.

1:15 AM BBT – Frankie joins Cody and tells him he's upset about Caleb nominating him and doesn't trust Caleb anymore. Frankie was bothered that he didn't get a warning conversation about the nomination.

1:35 AM BBT – Caleb reveals the Bomb Squad alliance to Victoria. He says he created it, but the alliance collapsed when Devin nominated Zach.

2:00 AM BBT – Derrick tells Frankie he's not competing against Frankie, he's competing against Victoria. Frankie renews his F2 promise to Derrick and says Caleb doesn't appreciate what he's done for him in the game like Derrick and Cody appreciate it.

3:00 AM BBT – Cody and Derrick discuss the Frankie & Caleb tension. Derrick isn't sure if it's legit but it seems like Frankie is done with Caleb over the nominations.

3:30 AM BBT – Derrick and Victoria still awake and chatting. She's quizzing him on events and wants to know more about what went on in the game around her.

4:00 AM BBT – The other HGs have gone to bed but Derrick continues to study the Memory Wall.

4:30 AM BBT – Derrick turns in and now all the HGs have gone to sleep.
It sounds like if Frankie does't win the veto, he's in real trouble this week. The competition should be coming up on Friday and this should be a very tense one so we'll keep you posted as soon as it happens.
You can watch all of these Big Brother 16 events using the archives flashback, the DVR-like feature of this year's Live Feeds which means it's always live, even when you missed it! Sign-up now to get the free trial to watch it all live & uncensored.
click images to see full-size