After last night's questionable decision to out the Detonators alliance under the guise of another Zach Attack, Christine Brecht and Frankie Grande went on to paint bigger target on their backs.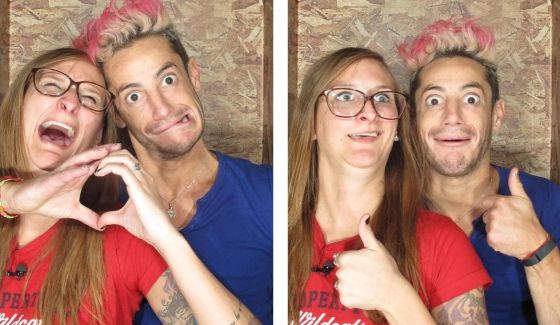 While Frankie and Christine originally thought going to Hayden and Nicole with the news of an alleged alliance offered up by Zach was a brilliant idea, they failed to adequately prepare before putting it in to action. Well, Frankie tried to prepare while Christine saw the nearest cliff and just dashed right over the edge. As Frankie tried to work out the details with Cody & Derrick, Christine raced ahead to tell Nicole so she could be seen as the one to first share the "news."
Flashback to 10:13PM BBT 8/5 Cams 3/4. After Frank-n-Stine leave the HoH room following Frankie's "confession" of Zach's attempt to for the Detonators (that's how they're trying to pass it off in case Zach explodes on his way out the door) Hayden says to Nicole "Do they think I'm the dumbest person alive? OMG!" Nicole says they must think the same about her.
Hayden caught Christine in a lie when she told him she was present when Zach made this alliance offer. Cody and Derrick told Hayden she was not present. Hayden made sure to test this part of her story and is now confident she's lying. What he doesn't realize is that so are Cody & Derrick.
Nicole & Hayden think this could all work out perfectly for them. Hayden tells Nicole he has talked with Victoria & Donny and convinced them that Christine & Frankie should be their main targets since those are Haycole's main targets. "Basically, we have the whole house working with us," says Hayden. "Besides Caleb," points out Nicole.
Hayden talked with Cody this morning and said he'd rather see Christine go over Frankie which is a strange choice to me considering Frankie has three HoH wins while Christine has none. He feels she's a better manipulator and apparently that worries him more.
Jumping ahead to Wednesday morning, Nicole spoke with Donny about who he would target in case of a Double Eviction. Remember, we know it'll be a DE this week, but they do not know that yet.
Flashback to 11:10AM BBT 8/6 Cams 1/2. Donny tells Nicole if there were no Battle of the Block in play then he'd nominate Caleb & Christine. Then if one of them saved themselves he would renom Frankie. I believe he's being honest with Nicole.
Now Derrick & Cody are still straddling the divide between the rest of the Detonators & their new Rationales alliance with Haycole, but if they smell blood in the water it may push them to step fully over to working with Hayden and Nicole. From there Derrick could draw in Caleb and further isolate Frank-n-Stine, especially if Frankie gets evicted after Zach on Thursday and it's just Christine floating out there in the murky waters by herself.
Looks like things fell apart pretty quickly for Frankie and Christine. In just a matter of days Frankie is seeing his most reliable ally Zach voted out and Christine lost Nicole's support as she overplayed her hand and tried to convince Nicole of things she knew not to be true. Unfortunately for Christine, she has no idea that's going on around her right now.
I wouldn't be surprised at all to see either Frankie or Christine follow Zach out the door as the second eviction of the night on Thursday. If you got to vote, which of those two would you want to see sent home next?