Big Brother Houseguest Caleb Reynolds has been fixated on Amber Borzotra from the very beginning and his efforts to win her over have been unrelenting. Remember that time he brought her ice cream weeks ago? Of course you do! He'll never let anyone forget. What about when he wore her clothes around his neck or stood over her watching her sleep? The least she could do would be to go on a date with him for all he's done. Mission accomplished!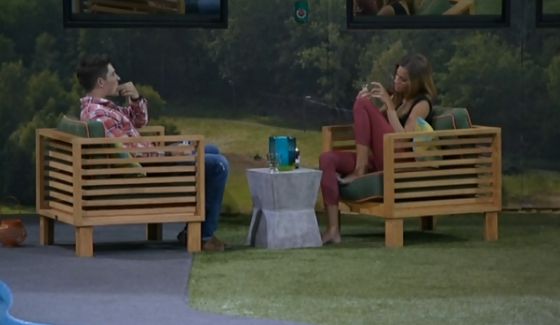 Last night Caleb's perseverance paid off when he landed an in-house "date" with Amber, just don't tell Amber it was a date. You'll definitely want to Flashback to relive all the magic of this one.
Rewind your Feeds to 9:26PM BBT 7/22. (Get your Free Trial of Live Feeds now.) The HGs are gathered around the kitchen island enjoying their newly delivered booze when Caleb starts snapping his fingers to get everyone's attention. He's got a really important announcement to make. Caleb says he's set up a date for two lovely people and wants to know if Amber will join him for it.
Things get awkward as there's a pause and silence. Frankie tells Amber it's okay and to go on the "date." Amber reluctantly agrees, "fiiiiiinne." Caleb escorts her outside to their table. Now here you can choose your own adventure. Stay on Cams 1/2 to hear the HGs roar with laughter after they leave or go to Cams 3/4 to follow Amber and Caleb outside. Be sure to catch the HGs inside before moving on.
click images to see full-size views
After Amber and Caleb have stepped outside Cody returns to the group for lots of retells of what he just missed. Frankie is confident that Caleb was waiting to ask Amber until Cody had left the room. Lots of silliness as everyone gives their take on what just happened.
Now on to outside. Caleb walks Amber over to his little set up and they settle in for a drink by the pool in two chairs he arranged for them. He says he couldn't wait another 60 days for the date he was promised as a reward for eating a pickle since he could have died. Before the other day Caleb had never so much as touched a pickle as he would use a utensil to push them off his plate. Amber reminds Caleb he couldn't actually die from a pickle.
Caleb explains he wanted to "take her on a date on TV cause outside the house no one gets to see it." Yeah, probably not even Caleb. Nevermind that. He starts to discuss their date outside of the house. Amber is surprised and suggests she thought this one would cover it. "Caleb, you're never going to give up, are you?" asks Amber.
Caleb has big plans for their date after Big Brother. He says he went to the DR, showed them his $5K prize ticket, and said he wanted them to book a 5-day cruise to Atlantis for as soon as they get out of there. Amber is mostly quiet and definitely does not agree to this offer. "It's a game, and I'm here for the game," explains Amber.
Caleb next tries the flattery route. "You're the toughest girl in the house and you're on a date with the toughest guy in the house. We're the two toughest people in the house and we're going to make it very far." Nice to see he got in some self-promotion there too since he rarely does that. So humble, that Caleb!
Amber sums it up well. "I can't believe I'm sitting here and I really can't say 'no' to a date." Caleb reminds her of his heroism, "You can't say no to a guy who almost died of eating a pickle."
Caleb tells her this is a date with "9 million people" watching. It's important to him that "a lot of people" see their "date." He's very big on this aspect.
He also explains that he won't make her eat a banana to go on that cruise with him. Amber hates bananas, she actually listed it on the bio page I received from CBS. I asked and she said it's a texture thing. Anyway, Caleb had said she'd have to eat a banana to get that cruise date with him like he ate the pickle to be able to go on this date with her. She said 'no' so he removed that requirement.
"No. Seriously, no. Caleb, you don't have to do any of that," pleads Amber in response to his cruise offer. "I want to! It's part of the date," replies Caleb. All Amber can say in response? "Ehhhhhhh."
Caleb says he's looking forward to getting out of the house so she can tell him how she really feels about him. No matter how she tries with words like "no" and "friends" he does not understand and discounts it as her being afraid to reveal on camera just how she feels. Oh, Caleb. Amber assures him she's been open and honest already about her feelings. He doesn't hear her at all on this.
There really seems to be no end to this thing. Jump to 9:43PM BBT as Caleb starts talking about their longterm future and when she's 80 how she'll be able to say she went on a date at 26 with this guy still sitting beside her. "Don't take it that far," Amber tells him. Oh he will. Not much later in their talk Caleb brings up marriage and how he wants to get married soon. Smooth. All these subtle hints will get her for sure! You'll have to watch the whole thing to really take it in.
What do you think of this Caleb and Amber situation? Can he finally break her down? Is she not being clear enough with her "just friends" comments and repeat use of "no"? Share your thoughts and keep on watching to see what happens next!
Update: This morning on the Live Feeds Amber walked with Donny in the backyard. When they passed Camber's "date" chairs Donny teased her it was the first of many dates. Amber said she was not having anymore dates in the house.
Amber went on to say she's repeatedly said that she's not interested but he does not give up. She didn't want to hurt his feelings last night so she went along with it even though she did not want to do the date.