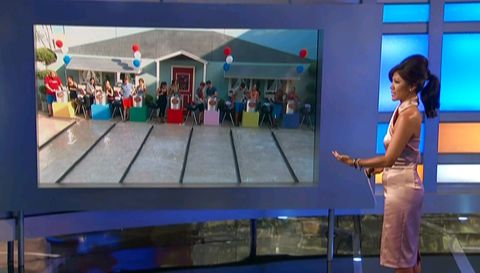 Here we go! It's time for a new Big Brother 15 Endurance HoH Competition! We just saw tonight's eviction so it's time to crown a new HoH.
So here's the deal: if you want to watch this competition live as it happens then you have to have your Big Brother Live Feeds
up and running. If you don't have the feeds then this is exactly when you need to sign-up with the free trial and see how they work. You'll be able to watch everything live and uncut as it happens!
Click Here to Get the Big Brother Live Feed Free Trial
HGs playing in pairs and have to run down a lane and fill a jug with BBQ sauce to release the ping pong ball. There are two jugs. Big one to win HoH and a smaller one to win a larger scoop in the hopes of catching up faster.
What we don't know for sure is how the HoH is picked between the two HGs on a team. Perhaps they just have to decide or flip a coin if it comes down to it.
CBS confirms the rules: "HOH comp rule clarification: #BB15 HGs have been randomly paired up. The winning pair must decide which person among them will become HOH."
You'll need your Live Feeds to watch. Get a free trial here.
HGs pairs are as follows:
Spencer & Helen
Candice & GinaMarie
Andy & Elissa
Amanda & Kaitlin
Judd & Nick
Jeremy & Aaryn
Jessie & Howard
Big Brother 15 Week 2 HoH Endurance Comp Results:
6:30 PM BBT – Live Feeds come back, but only audio.
6:33 PM BBT – Video & Audio are now available.
6:35 PM BBT – Judd & Nick have their larger scoop & working on main jug now.
6:40 PM BBT – Howard takes a tumble. Andy & Elissa about half-way.
6:45 PM BBT – Amanda & Kaitlin close to half-way as well.
6:50 PM BBT – Judd & Nick are on the path to win. The large scoop was smart.
6:55 PM BBT – Jeremy is doing very well and could win if Judd/Nick don't hurry.
7:00 PM BBT – Andy says he can nearly grab the ball. This will be close.
7:01 PM BBT – Jeremy reaches in and grabs the ball. Aaryn & Jeremy win.
Either Jeremy or Aaryn will be the next HoH. Aside from GinaMarie, are there two less liked HGs right now?
The Feeds are back and the decision has been made. Right now it appears that Aaryn has the key around her neck and the rest of the HGs don't look to thrilled about all this.
Aaryn, as the new HoH, also hand-picked the four Have-Nots for this week. Aaryn picked Candice, Andy, Elissa, & Helen. Shocking, right?
After tonight's competition is over you can watch as the new HoH plots the next nominations and then the Power of Veto competition.