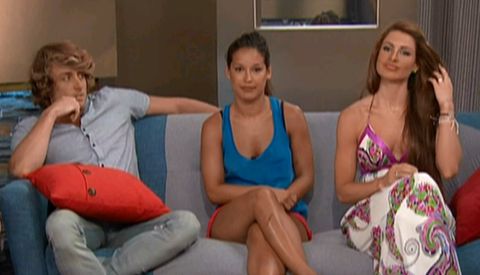 Tonight on Big Brother 15 episode 4, the results of the first live eviction will be revealed along with the results of the second HoH competition. While we wait for the results be sure to Join us on Facebook and Twitter!
I'll be updating this post here with the live eviction and HoH results as it's revealed on the show. Have your Live Feeds (not signed up yet? use the Free Trial) ready to go because as soon as the broadcast is over the Feeds come back!
It's entirely possible that we'll get an endurance competition tonight considering production has been working on the backyard since yesterday afternoon. If that's the case then we'll be able to watch it play out in full only on the Feeds.
Meanwhile, join us in the Big Brother chat room as we watch tonight's live show!
Big Brother 15 Week 1 Live Eviction voting:
Amanda: evict David
Aaryn: evict Elissa
Nick: evict David
Candice: evict Elissa
Spencer: evict David
Kaitlin: evict Elissa
Helen: evict David
Howard: evict David
GinaMarie: evict Elissa
Judd: evict David
Jeremy: evict Elissa
Andy: evict David
David has been evicted by a vote of 7-5. Blindside! The house is shocked and silent.
Out on the couch, no wait, no couch this year, just two high chairs, David uses lots of "likes" with Julie. You can tell he's a little choked up. During the goodbye messages Jeremy plays like he was supporting David, but Nick outs the Moving Company alliance and says Jeremy was in on David's elimination. Ouch!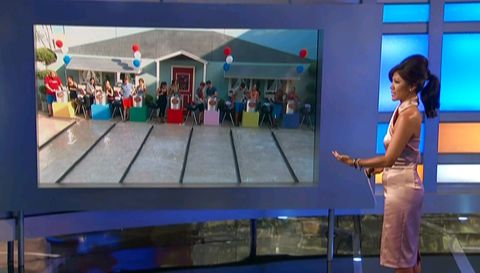 Big Brother 15 Week 2 HoH Competition – 'BB Barbecue':
HGs playing in pairs and have to run down a lane and fill a jug with BBQ sauce to release the ping pong ball. There are two jugs. Big one to win HoH and a smaller one to win a larger scoop in the hopes of catching up faster.
What we don't know for sure is how the HoH is picked between the two HGs on a team. Perhaps they just have to decide or flip a coin if it comes down to it.
You'll need your Live Feeds to watch. Get a free trial here.
HGs pairs are as follows:
Spencer & Helen
Candice & GinaMarie
Andy & Elissa
Amanda & Kaitlin
Judd & Nick
Jeremy & Aaryn
Jessie & Howard
We'll be updating the results live over here on this post.
Once the eviction show is over the Live Feeds turn back on and we'll be able to watch the endurance comp play out! Make sure you're ready to watch the house react to who is in power. The nominations will be revealed soon, so stay close by!
Be sure to sign-up for the free Big Brother email updates, join us on Facebook, visit the Big Brother Forum, follow us on Twitter, and get our Mobile Apps.