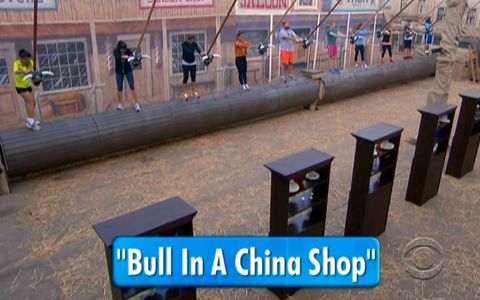 Here we go! It's time for a new Big Brother 15 Endurance HoH Competition! We just saw tonight's eviction so it's time to crown a new Head of Household.
So here's the deal: if you want to watch this competition live as it happens then you have to have your Big Brother Live Feeds
up and running. If you don't have the feeds then this is exactly when you need to sign-up with the free trial and see how they work. You'll be able to watch everything live and uncut as it happens!
Click Here to Get the Big Brother Live Feed Free Trial
We're trying something new tonight with a live blogging style that will automatically update this page as I post a new update. It should help things run smoother and allow for more frequent updates. Of course, if it flops I'll just revert to the old method.
So the live blogging software was a total flop. Back to the old method.
Big Brother 15 Week 6 HoH Endurance Comp Results:
7:05PM BBT – Feeds return. All HGs still in the game.
7:10PM BBT – Tread on the barrels are tearing up as HGs walk across it.
7:20PM BBT – Barrel stops spinning. HGs rest. It starts going back the other direction.
7:23PM BBT – Spencer & Candice both fall.
7:24PM BBT – Helen fell.
7:24PM BBT – Amanda is down.
7:25PM BBT – McC gets yelled at for turning sideways.
7:26PM BBT – Elissa, Judd, & Andy are down too.
7:27PM BBT – Jessie, GM, & McC still in.
7:35PM BBT – We haven't seen what's in the boxes yet.
7:40PM BBT – Still the same 3 in, but Cams focused on McC.
7:41PM BBT – GM promises McC safety, but he says he has to think of Amanda.
7:45PM BBT – McC, Jessie, & GM still all in. Cams STILL only showing McC.
7:46PM BBT – Sounds like Candice got 5K, Spencer got a bullhorn, & Helen got a card (?).
7:47PM BBT – Jessie looks like she's really struggling.
7:48PM BBT – Jessie is down. GM offering McC safety, but he won't budget.
7:50PM BBT – McC pleading with production to open doors so HGs can go inside. He must want to offer GM a deal.
7:53PM BBT – McC looks very winded. Can't see GM. Not sure how she's doing.
7:55PM BBT – GM sounds like she's doing better. We can hear McC's heavy breathing & holding his side.
7:57PM BBT – As long as GM doesn't trip, I really think she'll outlast McC.
7:58PM BBT – GM offers McC 1 of her HoH noms, he declines. He offers her both of his. She says 'nope.'
7:59PM BBT – McC falls! GM is the new HoH!
Watch what's happening with the Live Feeds free trial!
GinaMarie is the new Head of Household! Congrats to GM!

More details on those boxes. Spencer was down first & got to pick. His "prize" is a bullhorn he must use to speak until after nominations. Candice won $5,000. Helen got a BBQ card and can invite three other people to it.
What do you think of tonight's Big Brother 15 HoH results?
click images to see full size