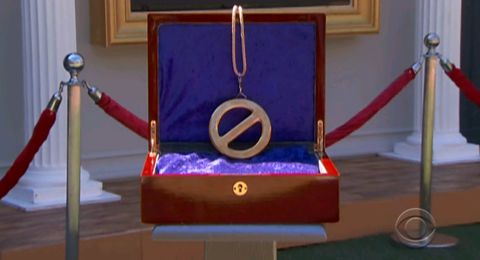 The latest Big Brother 15 Power of Veto competition is over and we have the spoiler results for you. All four of the remaining HGs competed in this round's Veto comp to win the most powerful PoV of the season. While winning HoH will keep you safe its the Veto this week that lets you vote and pick the final member of this season's Final Three.
If you missed it earlier, here are the nomination spoilers, but as I mentioned it really doesn't matter if you're nom'd or not. The Veto is what matters the most this week.
Be sure to join us on Facebook and Twitter for mini-updates through the day.
Read on to find out who won and what that could mean for the game this week.
Big Brother 15 Spoilers: Week 11.5 Power of Veto Results:
Andy The Exterminators won the Power of Veto
Update: Confirmed. Andy won the Veto.
After 90 minutes of watching the Feeds there has still not been an explicit conversation confirming who won Veto. The closest we've had to that was McCrae asking Spencer if he (McCrae) was going home and Spencer saying "he" (possibly Andy) wasn't letting them know what he was going to do.
So from that we know McCrae did not win and it sounds like Andy won, but since I don't deal in "maybe's" here for your spoilers source I'm holding this as a win by The Exterminators and we'll confirm that further in the morning.
click images to see full-size view
It really doesn't matter which Exterminator won the Veto if they're going to stick to their plan of going to the end together. Considering McCrae has been a target for weeks I think it's safe to expect the sole voter tomorrow to keep on that path. If the noms don't change then that'll be GinaMarie casting the vote on Thursday night.
The Veto Ceremony could be live during Thursday's episode and then followed by another eviction and the start of the final HoH competition.
Jump on the live feeds and enjoy the drama. Watch it all now live & uncensored.