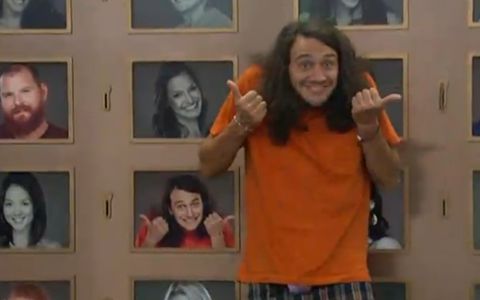 When last night's Big Brother episode ended we had just seen Judd evicted and a new HoH crowned when Andy won the three-way tie-breaker. Of course those events were taped in advance and we knew a lot more had gone on inside the game since then. With that in mind we waited and waited and waited to get confirmation on the nominations, the Veto, and the HGs plans for what would happen next.
The nominations themselves aren't really important this round. The HoH is safe, which is great for that HG, but then the two players picked to go up on the block is inconsequential when there's so much control derived from the final Power of Veto.
Whichever HG won the Veto would decide who would be the sole vote heading in to the Final Three. If one of the three non-HoH HGs won the Veto that player would secure safety and cast the vote to evict. This time it worked out a little differently.
Andy won HoH and nominated McCrae & Spencer. Andy then went on to win the Veto as well. Now his choice is for whether he wants to keep his original noms and let GinaMarie vote or to switch it up and let Spencer vote. Either way the results are likely to be the same when it comes time for tonight's live eviction show.
At 12:30AM BBT last night, while McCrae was in the DR the remaining Exterminators got together and decided they need to let McCrae know he's going to be evicted. They like him personally and don't want to be a jerk to him about it or let him get caught off-guard by the news. They discussed doing it that night, but I don't think they ended up doing it.
I'll keep watching and let you know if there are any game changing updates when the HGs wake up today, but right now things look set for an Exterminators Final Three.
What do you think of the overnight spoilers? Would you have rather seen McCrae head on to the season finale than Andy, GinaMarie, and Spencer?