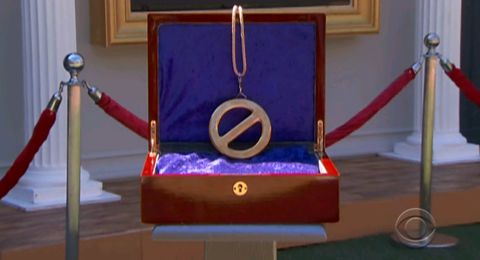 The latest Big Brother 15 Power of Veto competition is over and we have the spoiler results for you. After Friday night's intense post-nominations arguments I'm sure the tension was high for this week's competitors.
We're getting to the point where no one is safe, but as an Exterminator holds the power this week I think it's safe to say we won't be seeing any one of those four leaving in at least the first part of next Thursday's Double Eviction.
Be sure to join us on Facebook and Twitter for mini-updates through the day.
Read on to find out who won and what that could mean for the game this week.
Big Brother 15 Spoilers: Week 10 Veto Competition Results:
McCrae won the Power of Veto
McCrae will definitely use the Veto to save himself on Monday at the Ceremony. Spencer indicated GM has to put up him or Andy to cover their tracks.
The Exterminators were planning to vote out McCrae so while McCranda thought Amanda was the main target it seems that McCrae dodged that bullet.
The HGs playing in today's comp were Amanda and McCrae as HoH's noms, GinaMarie as HoH. Andy, Elissa, and Spencer were picked also picked to play. That left Judd to host. I'm sure Andy was just thrilled to be picked for the comp as he said he'd throw it.
Jump on the live feeds and enjoy the drama. Watch it all now live & uncensored.

What do you think of the PoV Comp results? What will happen at the ceremony? The Veto Ceremony will be held on Monday afternoon. We'll post spoilers when they happen.