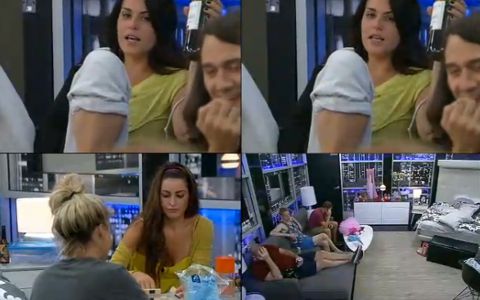 Saturday in the Big Brother 15 house the week's nominations were challenged yet again when a Power of Veto competition didn't go quite as the majority of HGs had hoped. As one HG pointed out, "the worst-case scenario is happening a lot." It's not quite worst-case, but the HGs will have to adapt to the disrupted plans and that usually means even more fun for us viewers.
Read about those moments and others on our Live Feed highlights below. And remember to sign-up now for the Big Brother Feeds so you can watch any of these moments by using the Flashback archive feature.
Big Brother 15 Live Feed Highlights –  Saturday, Aug. 31, 2013
8:20 AM BBT – HGs waking up and getting ready to pick the Veto players.

9:50 AM BBT – Feeds return. All HGs except for Judd will compete for the Veto.

9:55 AM BBT – Amanda tells Andy he has to win the Veto to save them. Separately, Spencer tells Andy he wants to see Elissa gone. Andy agrees that Elissa should go after first of McCranda to go.

10:15 AM BBT – GM, Spencer, and Andy discussing eviction plans. GM doesn't want to reveal too much to Elissa on their preference to get out McCrae first.

10:30 AM BBT – Exterminators excited about their chances at getting to the Final 4. GM discusses Amanda and her boyfriend from back home.

11:10 AM BBT – Andy worries Elissa will get America's Favorite.

2:07 PM BBT – Feeds return. McCrae won Veto. Exterminators are disappointed, but still good spirits. Amanda in the bathroom stall crying. McCrae comforting her.

2:15 PM BBT – Spencer tells GM that she has to put up him or Andy to cover their tracks or else everyone will figure out they're working together.

2:35 PM BBT – Andy talks to McCranda about why he didn't want to win the Veto. Does not tell them about The Exterminators.

2:45 PM BBT – GM promises Elissa she won't be renom'd. She tells Elissa that Andy will need to go soon.

3:40 PM BBT – Amanda crying to Judd for his vote. He tells her maybe she won't go.

4:15 PM BBT – Amanda working on GM to help keep her this week. Promises not to go after her.

5:10 PM BBT – Amanda continues to work the crowd. She says she's so unpopular that no one will want to keep her later so why not keep her now.

5:55 PM BBT – McCrae talking to GM now. She tells him that Amanda made some good points about renom'ing Elissa. McCrae questions if she's serious or just saying that.

7:00 PM BBT – Amanda works on Spencer to tell GM that he'd target Amanda next week as a way to lessen GM's sense of urgency on getting Amanda this week.

8:25 PM BBT – HGs called indoors for lockdown.

8:30 PM BBT – Spencer and Andy reconfirming that McCranda needs to be split.

9:05 PM BBT – GM and Andy discussing renoms. GM says she will not renom Elissa like Amanda keeps pushing.

10:00 PM BBT – McCranda working on GM to renom Elissa or Judd.

10:40 PM BBT – Amanda has the entire bottle of wine, drinking out of the bottle, and won't share.

11:15 PM BBT – Amanda apologizes for her behavior with the wine.

11:30 PM BBT – Andy loses a card game and has to dance in the tutu every time production talks to them. HGs thoroughly enjoying this.

1:20 AM BBT – Judd and Andy agree that if this is a Double Eviction week and an Exterminator gets HoH they should put one of them up against McCrae instead of McC against Elissa.

3:15 AM BBT – Exterminators having their late night talk. They speculate who each opposing HG would put up. GM thinks McCrae would go after Elissa, Judd, or GM. Andy thinks Elissa and McCrae would go after each other, but he thinks he's also in danger from Elissa's nominations.

4:15 AM BBT – Exterminators discuss Spencer as the renom. Sounds like their plan is set for the Veto Ceremony.
Saturday's events definitely defeated the Exterminators' hopes of sending McCrae out the door but they're ready to accept Amanda's departure as a secondary prize. Sunday should be calmer but watch for Amanda to step it up after Monday's Veto Ceremony.
You can watch all of these Big Brother 15 events using the archives flashback, the DVR-like feature of this year's Live Feeds which means it's always live, even when you missed it! Sign-up now to get the free trial to watch it all live & uncensored.
click images to see full-size